If you want to grow your email list and want people to opt in on your landing pages, you will need to have some sort of ethical bribe in place, and in this post we'll take a closer look at these bribes or lead magnets, and in particular on how to find profitable lead magnet ideas.
I also like to call them your "bait" because that's exactly what they are!
Your bait will be some kind of a free gift in exchange for the persons name and email address.
There are many things that you can use as your bait such as a checklist, a report, a video, a short course , a free membership or a weekly/monthly email newsletter which is packed with valuable information.
These days your bait must be something good. Just because you are giving it away for free, that doesn't mean it can be any old or outdated pile of crap.
Most people are very protective to give out their personal email address and in order for them to do so they must really be interested in what you have to offer.
It's very important that you understand the above statement because it's absolutely vital if you want to succeed!
The days where you could throw something together quickly and people would stand in line to grab your freebie are long gone. There was a time when you could probably do this but those days are a thing of the past!
Watch the how to find profitable lead magnet ideas video tutorial below

Your lead magnet or bait needs to be good for these two reasons
First to convince them to sign up for your list.
Second to keep them on your list!
Your freebie needs to grab their attention immediately and convince them that it is exactly what they need. It must look appealing. And above all, it must be easily accessible.
Once you've convinced them to pick up your freebie it must cut the mustard once they actually have it. If your freebie looks great on the outside, but the content inside is rubbish they will unsubscribe without a doubt!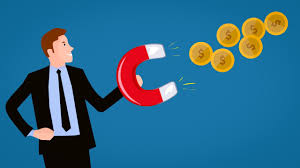 Creating a lead magnet
Your bait can either be a something that you have created yourself or it could be something you have sourced, such as a PLR report or a product that you own with Resell or White label rights.
The most important thing is that your product looks unique. I say looks unique because it could be a PLR report which you have repackaged and changed the name of. That's absolutely fine!
The reason is that people can see that you are the only person they can get this freebie from.
Choosing a topic for your lead magnet
The topic you want to choose for your lead magnet is very important because that's what ultimately will persuade people to want your product.
The key to creating a perfect lead magnet is to ask yourself one question "what is it that people in my niche actually want to learn?" If you have the answer to that question and you're willing to share that info for free, than you will have a winner.
How do you find out what people really want to learn?
Well it's actually not that hard to find out. You just need to do some research in the right places!
Just start your research by visiting the Clickbank Marketplace.
Go to https://www.clickbank.com and then hit the "Marketplace" button.
Select your niche and have a look around the top selling products in your niche.
Get some ideas and create a product with roughly the same or similar topics
For example if you're operating in the E-business & E-marketing niche and the top selling product is a product that covers video marketing, you could create your lead magnet on how to do affiliate marketing on YouTube.
Most likely people would want to get there hands on such information for free, hence it would be good opt-in bait.
Get product ideas on forums
Internet forums are another great source for your lead magnet ideas.
Just do a Google search for "your niche + forum" you'll find the main forums in your niche pretty quickly. Have a look around the topics within the forum and get an idea of the main things that people are talking about.
You'll see that certain topics are being discussed over and over again, and that's a great sign of a topic which you could use to create your lead magnet about!
If you are able to provide people with solutions on topics that are being discussed frequently,then you have a potential hot topic for your bait.
Let's say you're involved in the Online Marketing niche, one of the biggest forums is the warrior forum
This would definitely be the first place where you should look around for ideas. It won't take you long to see some recurring questions / topics which people are asking.
How to get started making money online as a complete newbie?
How do I make money online quickly?
Topics related to blogging.
Topics related to social media marketing.
Topics related to video marketing
Topics related to affiliate marketing.
Topics related to list building
I hope you can see the potential here, and that by spending a couple of hours looking around you should be able to get several product ideas.
Finding ideas on blogs
You can easily spot the popular topics on blogs by looking at the number of comments the post receives.
A blog post with lots of comments clearly made an impact on the people reading it, whether that is by touching a nerve or it gave the exact information that people were searching for.
Finding inspiration in the huge collection of the Dummies Guides.
Well, despite their name, the Dummies guys know exactly what they're doing, especially when it comes to market research.
You see it costs them thousands of dollars to do market research, hire ghost writers, find companies to manufacture the books and find publishing deals.
So rest assured, if they got a book on a certain topic it's most likely in a profitable market and therefore perfect for you to find ideas for your lead magnet.
Choose your lead magnet idea and stick to it!
Once made a decision on your topic, you need to either create or outsource the creation of your product. But whatever you do, just make the decision and stick to it!
It shouldn't take you days, weeks or months to decide on your freebie product idea.
Spend some time researching, then decide whether you are going to create a product from scratch yourself or source it from somewhere else.(PLR product, resell rights product). Then go out and just create it!
Looking or more FREE and useful stuff from yours truly?
Well, as it happens I've got a full blown affiliate marketing course waiting just for you.
All you have to do is give that button below a good old click and it's yours!