Step-By-Step Action Plan To Get Approved As An Affiliate On Warrior Plus Fast
We all know that getting approved as a new affiliate on Warrior Plus can be a drag to say at least. Reason being, you don't have an affiliate score and vendors are scared that you'll send junk traffic that will affect their EPC. But how do you build an affiliate score if you don't get approved for jack shit? Well, in this post I'll show you a simple strategy to get approved as an affiliate on Warrior Plus fast, and even better, it's completely free to implement as well.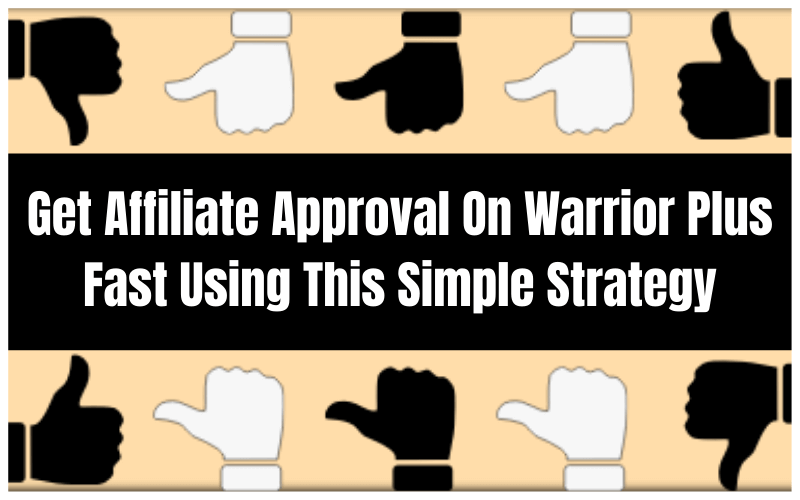 Refund rates will also have a negative impact on your affiliate score. Stay away from dodgy vendors that just rehash info-products and churn out untested theory that don't work in the real world.
When customers ask for a refund after purchasing these digital piles of rubbish your affiliate score will go down. Rule #1, if you're just starting out refrain from crappy products or you will be in the "not approved zone" forever.
As a matter of fact, you should NEVER promote junk offers. You're better off choosing reputable products that don't make pie in the sky claims. Not only will they be around for a long time, but your customers will thank you for recommending them.
To find your affiliate score on Warrior Plus you'll need to click on your username. Choose "My Account" from the drop-down menu and a new window will open. Click on the Account Summary tab and scroll down and you'll see your affiliate score.


Before we crank up that affiliate score there's just one thing left to do…
If you want to be a successful affiliate, you MUST get the basics right. You need to be familiar with the affiliate network that you are using.
Lots of new affiliates are completely clueless on how to actually use Warrior Plus. They dabble around on the network and have no idea of what they're doing.
You really need to understand all the metrics BEFORE you pick an offer to promote. This will save you a lot of grief down the line.
My ol' pal Charles will show you how to use the affiliate menu in the video below. It's an older video and the user interface of Warrior Plus might have changed a little by the time you're reading this BUT the core principles remain the same.
== How To Use The Affiliate Menu On Warrior Plus ==

Now with that said and done, let's get into the more exciting stuff and look at our simple strategy to get approved as an affiliate on Warrior Plus fast.
So what is this simple strategy I'm talking about?
While some of you might have tried some other things before, rest assured this strategy doesn't involve any of the usual stuff:
NO "could you please approve my affiliate request" videos
NO friend requesting vendors on Facebook who are not bothered to read your message
NO butt kissing vendors to increase their already over the top ego.
This is something that is much easier to do. On top of that, it will build up your affiliate score with no refunds, builds up your email list and you can make a few sales in the process.
We're going to be an affiliate for the free front end offers that are listed on Warrior Plus, because a free sale counts as much as a paid one, and you could make some money here and there on the rest of the funnel.
We're also going to offer a bonus in the process, so you can build your list at the same time.
Why do these vendors offer a free front end in their funnel, you might ask? Well, the answer is quite simple, they use the power of affiliates to build up their email list and make a nice chunk of money at the same time.
Now truth be told, this isn't going to make you boatloads of money, but then again creeping up Mosh Bari's butt isn't going to make you an overnight millionaire either.
Besides that, the whole point of this strategy is to build up your affiliate score fast, once you've achieved that you can start thinking about making tons of money.
Watch My Strategy To Get Approved As An Affiliate On Warrior Plus Fast In Video Format

It's Time To Put Our Sneaky Strategy Into Action
Step 1: Find a good free offer with a back end funnel
In Warrior Plus click on the Affiliates option in the menu bar.
Click on Offers in the drop-down menu.
The easiest away for spotting free offers is to see a high value in the Conv. Rate column (look for something over 30%).
There will also be a relatively low value in the Visitor Value column. Probably less than $1
See what the offer is about. Is the offer still relevant and is the sales page still working?
If you found an offer that you like then get yourself a free copy, go through the funnel and see what the product looks like (you don't have to buy any of the up sells)
NOTICE: $1 Dollar offers or low-priced front end offers with a price range in between $4 – $7 also work extremely well for this strategy.
Step 2: If you feel comfortable to promote the product, request your affiliate link
Now because this is a free product chances of being denied affiliate approval will be minimal BUT do make sure that you have the following things in place:
Make sure you're Warrior Plus profile is completed and up to date (picture of yourself, short bio and long bio, address, website, Facebook, YouTube,…)
If you're a new affiliate with no experience, you MUST include a note to the vendor with your request.
Inform the vendor that you have access to his product and that you would like to promote the product
Don't lie, if you're a new marketer then tell them
Explain how you want to promote the product (website, YouTube, Facebook,…)
Tell them that you will not use any kind of cheap traffic sources
Inform them that you are perfectly fine with delayed commissions
Thank them for their time and for considering your approval
Step 3:Once your request is approved, create or find a simple bonus that complements the product
Checklist or report (create one yourself or find one that you can give away)
YouTube explainer video or how to guide (create one yourself or find one that you can share)
Course that you can give away (create one yourself or find one that you can give away)
Free membership (Groovefunnels, My Online Startup, Free Monthly Websites, Gorilla Marketing Pro,…)
If you'd like to find out how to create your own unique bonuses then you might want to check out this blog post.
Step 4: Create a simple one page website where you host your bonus and brand yourself
This 1-page website will function as your bonus download page.
Use your own WordPress site or any of the multiple free website builders ( Wix, Weebly, Google Sites or even a Google Doc )
Introduce yourself and tell people what you stand for (short video or written text with a picture of yourself)
Share the link to your bonus
Make sure to copy and save the URL of your 1-page website because you'll need it when you hook up your autoresponder.
Step 5: Create a list and signup form in your autoresponder
If you don't have an autoresponder then create a free account with Aweber or get a 30-day free trial with GetResponse.
First you'll need to create a list and call it free_gift_bonus (this is just an example, call it whatever you want but just remember the origin of this list)
Once your list is created you'll need to create a sign-up form.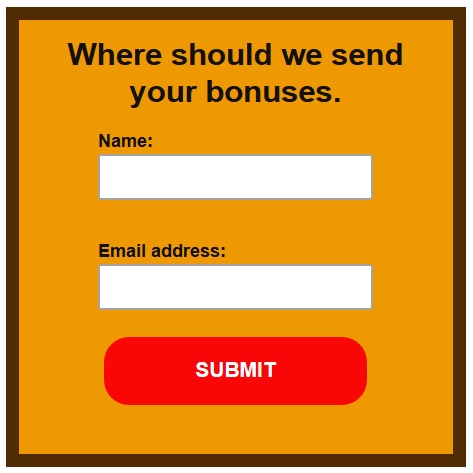 Keep it simple
Headline: Where should we send your bonus?
Name
Email
Send it here button
Connect the sign-up form with the list that you've created and with the URL of your 1-page website. Let your autoresponder host the sign-up form and copy the URL that will be given to you.
Step 6: Go to Warrior Plus and locate for your affiliate link
Choose link options
Paste your autoresponder URL in the "Buyer Bonus URL" box and click save.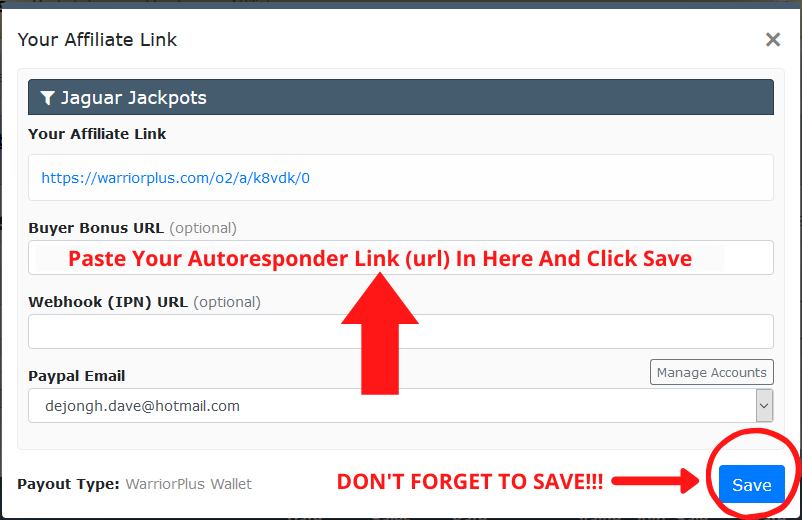 Step 7: Your set up is finished, so now it's time to promote your free giveaway
Promote it where ever you can BUT don't just blatantly spam your link all over the internet. Use your own webite, Facebook, Pinterest, Twitter, Instagram, YouTube, Forums, Blog comments,…
IMPORTANT!!! Always inform people that there's no opt-in required to get access to your free product and inform them of your extra bonus
Two Extra Tips To Improve Your Chances Of Getting Affiliate Approval
1.NEVER Lie In Your Request Notes
Don't tell a vendor that you have a big email list or a loyal following when you've made ZERO sales. Or even worse tell them that you've made hundreds of sales on other affiliate networks when there is absolutely no proof of it.
Without proof, it's all hot air and you sound like every other affiliate who's trying to bullshit their way to approval. I get it, you want to impress the vendor. That's fine but instead of lying through your teeth do it by working your ass off and look legit.
2.DO NOT Namedrop In Your Request Notes
This is probably one of the WORST things you could do! Never tell a vendor that your taking a course or training from another marketer/vendor because dropping names can actually work against you.
Here's why. The vendor you're approaching to request approval from may dislike the vendor whose name you're dropping. In that case you'll end up getting tarred with the same brush and denied without a second thought.
Now guys, this was it, put this simple strategy to get approved as an affiliate on Warrior Plus fast into action, and you'll see your affiliate score going up faster than you could ever imagine.
If you got any questions whatsoever then drop me a comment below and I'll try my best to help you out.