How to Create Affiliate Bonuses – Step-by-step guide to create your own bonuses that will increase your sales massively.
Looking to stand out online from other affiliate marketers? If so, then a hot, irresistible bonus offer is required that will persuade people to buy through your affiliate link. Most marketers mistakenly believe that creating bonuses has to be complex and time-consuming. This is total hogwash, you just got to steer clear from over complicating things. So, if you want to find out how to create affiliate bonuses easily, read on, as I'm about to reveal it in this post.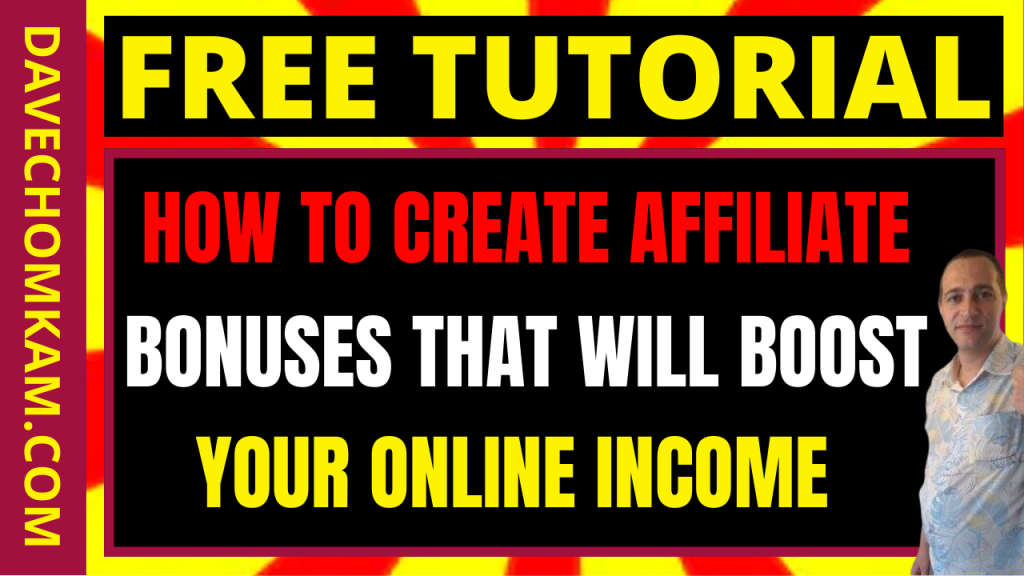 Bonus offers need to tie in directly with your paid product and offer CLEAR value. You also want your bonus to be either exclusive, limited or both.
Always remember that your bonus offer will be THE leading factor in whether a potential customer chooses to purchase the product through your affiliate link or someone else's, so you need to spend some time in creating an offer that people would gladly pay for!
If you create exclusive bonus offers, no other affiliate can replicate your offer because you have full developer rights to what is offered. This might include unique reports, content or video tutorials that you either created yourself, or hired out to qualified freelancers.
Since you own full rights to the content, you'll also be able to use this package as a bonus in future offers, launches, or even as part of your own information package later on!
With limited bonuses, you are offering access to your offer only for a limited time, or to a limited number of customers. This employs the 'scarcity' tactic, which motivates people into taking quick action because they don't want to miss out on a great deal.
It's very important to use these 'motivators' within every affiliate campaign. If people feel there is no rush or no real exclusivity, they will probably continue to search for a better or larger bonus package from another affiliate.
OK enough with the theory…
Let's find out how to create affiliate bonuses
Step1: Determine what's missing in your paid offer
The first thing you want to do is analyze your paid offer to find out what's missing or lacking in the main product. Then, create your bonus product around that unfilled need or demand.
When creating your bonus product, you don't have to develop it yourself. You can cut down time by using high quality private label content. You can then create a "best of" from the existing material, or develop extensive bundles and packages that fit with the product you are promoting.
For the purpose of this tutorial we're going to focus on creating short reports. With short I mean somewhere in between 15 to 25 pages.
Here is what I do with private label content to make it much better. I get all kinds of private label reports, articles and e-books on one topic, read them all, take out the best stuff from each private label item and make one "best of" report.
By doing so I get the best information from various different sources as opposed to one source where some of it is good information, and some of it is rehashed and outdated.
I advice you to do the same. This way, your writing efforts will be minimal as you just copy and paste most of it into one great report! The only thing you have to come up with are new chapter names and some "connector" paragraphs, but nothing major I assure you.


Here's where I get both my free and paid PLR
Now pick up around 5 e-books on the topic of your bonus. Read them and take out the best parts of each book and paste them into a Google Doc. Do not go overboard on this, you just want the meat and potatoes out of every book. Remember we're creating a short report without the fluff and filler.
Step 2: Give a name to your product
When you come up with a name make sure to appeal to human psychology. People love to think they are getting knowledge that nobody else is. You also want a name that's easy to remember and you should always try to make it unique. Keep it nice and short, I suggest that you don't use more than 4 words.
You might want to use words like:
Secrets
Formula
Breakthrough
Discover
Strategy
System
Hack
Name your product something like this:
Secret Facebook Traffic Formula
Breakthrough Commission Hacks
Easy Cash Flow Strategies
But make sure that your name is congruent with the content inside your report. It's absolutely pointless to come up with the coolest name ever, if the name doesn't reflect what the product is about.
Step 3: Create a new e-cover for your product
It can be a real hassle to recruit and work with graphics designers. Not only can it be ridiculously expensive (even if you hire somebody on Fiverr), but to get the layout you want, there are a lot of back and forth alterations. On top of that, you will need to ensure that stock images are used so that you don't run into any legal issues.
Not just that, but you've got to wait… sometimes for days or a week to finally get your desired design. That's why I choose to design all my e-covers myself. I use two online tools that are completely free, and more importantly they require no technical skills whatsoever. Not only is this more cost-effective, it's a lot quicker in the long run.
Here's what you need to create your e-covers:
== Here's a great video tutorial to create your own e-covers for free ==

Keep in mind that you don't need to upgrade for either Canva or Smartmockups. The free options are more than enough to create some stunning covers.
You can also search for copyright free images here:
Step 4: Create new chapter titles
Open up your Google Doc from step 1, and begin writing possible chapter titles for your e-book. If you copied the existing chapter titles I strongly suggest that you change them or at least re-word them.
Don't get stuck on this step, there's no need to over-complicate things, just come up with a chapter title that reflects the content. You can also insert additional chapters into your document if you come up with additional ideas that you believe are important for your report.
Once you're finished with your chapter titles, write some short but enticing connector paragraphs, so that everything flows nicely together. Your audience will appreciate the extra effort you took to create a fluid report, that is easy to read and understand.
Step 5: Insert some images
Go back to either Pexels or Pixabay and search for images that would be suitable for your book. Download the images and save them. After that it's just a matter of inserting the images into your Google Doc.
Step 6: Add your name and add some affiliate links
We nearly reached the finish line. The only thing left to do is add your name as the product creator. It's also a good idea to add some additional affiliate links in your report.
For example, if your report is about building an email list, you might want to consider promoting things such as an auto-responder, a page builder or a software that creates stunning sign up forms.
That's it, you're done. Make sure your report is properly formatted and proof read your report to check for grammatical mistakes. If everything turns out to be fine, just download your Google Doc as a PDF file. And there you have it, your first exclusive and unique bonus.
Now just rinse and repeat, and soon you'll be the proud owner of a whole bunch of digital products. And keep in mind that you can use the products for different purposes. Use them to build a list, give them to your subscribers to build trust and authority, or just plain simply sell them for a nice profit.
If you ever wonder again about how to create affiliate bonuses for your campaigns, then just follow the above steps and you'll have a bonus in no time.