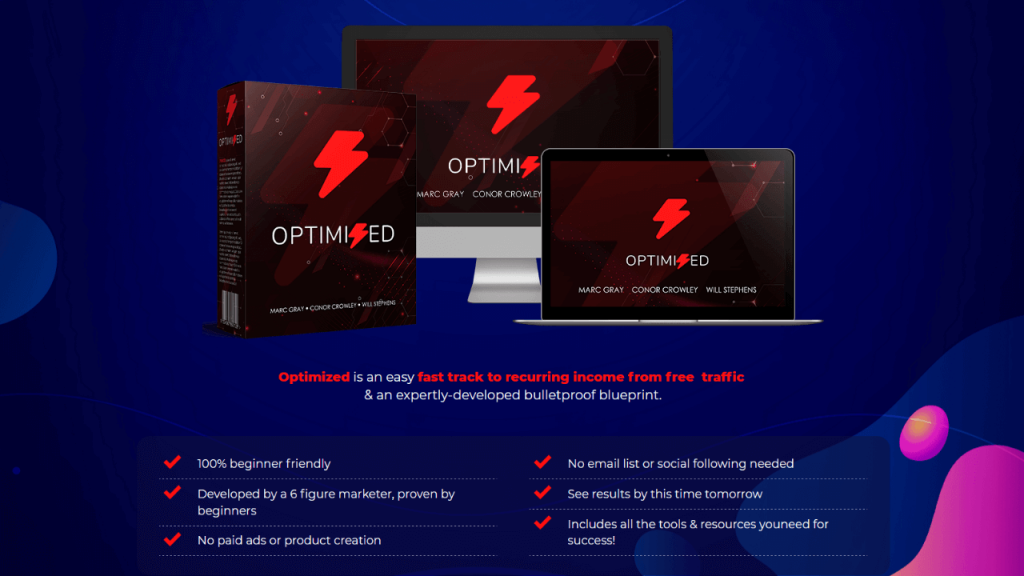 Optimized Review – How to get fast results online from 100% free traffic without any experience
Hi there everyone and welcome to my Optimized Review. Today we're going to take a closer look at a product called Optimized. The product will be released on 22/05/2021 at 09.00 AM/EST.
All of the training in this course is put together by Will Stevens and Conner Crowley.
This course will teach you how to do YouTube optimization properly. They're going to show you how to set up your channel and rank your videos, so that you're going to get the maximum amount of views.
Will and Connor are private students of Marc Gray who's a big affiliate marketer and they're basically sharing everything in this course what they've learned from Marc.
These are all proven methods that are up-to-date and everything that Marc is using in his own online business. Marc is the owner of TWOOM and he is known in this industry for his SEO skills.
Marc is not one of those marketers that "invents" a new strategy every 2 weeks. He really does practice what he preaches. He's been using the same methods for years and perfecting them along the way.
How do I know this you might ask? Quite simple, me and Marc go back way back as we are both members of James Scholes' Evergreen Wealth Formula. As a matter of fact, Marc was one of the first original members of the Evergreen Wealth Formula.
James was the one who taught us to persist with what is working. Build yourself a website, drive traffic to that website and build an email list from that website.
I know, it doesn't sound as sexy as "Push Button or Traffic In 30 Seconds", but believe me, these things don't work. Never have and never will.
If you want to succeed in this business you need to stop chasing loopholes and stay the course with what's working. Will and Conor realized this and signed up for Marc's private coaching.
With the help of Marc, both of them were able to build themselves a thriving online business and now they are willing to share their knowledge with other beginner marketers.
Watch My Optimized Review Video Below So You'll
Know What You Can Expect

>>> Click Here To Secure Your Copy + My Exclusive Bonuses <<<

Here's an overview of what you're going to learn
Inside the members area of Optimize you're going to get lots of training from Will Stevens, all done in easy to follow video tutorials.
Module one is going to show you how to use new and aged channels. Obviously an aged channel will give you more authority and it will get you up the rankings much quicker.
He's going to show you how and where to buy an aged channel, how to set up your channel, how to optimize that channel, how to add watermarks to your channel and how to record your videos with a free tool called OBS studio.
The second module shows you how to upload your videos, how to do keyword research and how to optimize your video description and tags. And of course he also shows you how to create high quality thumbnails so that your videos get clicks and views.


You also get access to explainer videos about optimizing your videos with VID IQ, which is a great little chrome plugin that you can add to your channel. VID IQ will give you all sorts of information that will help you to even further optimize your videos.
They've also included 2 case studies that are solid proof of what is possible when you know how to properly optimize your videos. Then we have a video on what to do next, which is basically a motivational video to get you to take action.
And last but not least you'll get some additional training and access to 2 free bonuses from the vendor.
All in all this is a great little product for marketers who are just starting out on YouTube, or marketers that want to take their channel to the next level.
Is it the best YouTube marketing training I've ever laid my eyes on? No it's not, for more detailed training on YouTube marketing there is nothing better than Adam Payne's YouTube Channel Mastery Re-loaded.
PROS
Beginner friendly
No paid ads
No product creation
No email list needed
Includes all the tools & resources
CONS
No real training on where to send your traffic (website, squeeze page, bonus page)

>>> Click Here To Secure Your Copy + My Exclusive Bonuses <<<


Price And Funnel Of Optimized
Optimized Front End Price $12.95

Upgrade 1 Optimized Pro $37.95
In this upgrade you'll get access to exclusive advanced training.
Upgrade 2 Optimized Done For You $39.95
You'll get access to 250 done for you campaigns created & used by Will, Conor and Marc
Upgrade 3 Optimized Coaching $295.95
Exclusive access to high ticket coaching with Conor Crowley, Will Stephens and Super Affiliate Marc Gray
Upgrade 4 Optimized Reseller Rights $195
Get resell rights to Optimized and sell it as your own and keep 100% of the profits throughout the entire funnel

>>> Click Here To Secure Your Copy + My Exclusive Bonuses <<<


Grab Optimized Today And I'll Give You Instant
Access To Some Of My Best Bonuses!!!

BONUS 1 – High Authority Blog
Discover how to build a high authority blog/website right from the get-go (DA 20 +)
Over 3 hours of quality training that will guide you through the whole set up
Get to know what plug ins and settings are needed to create a blazing fast website
Learn how to search for long tail keywords and blow your competition out of the water

BONUS 2 The Secret Weapon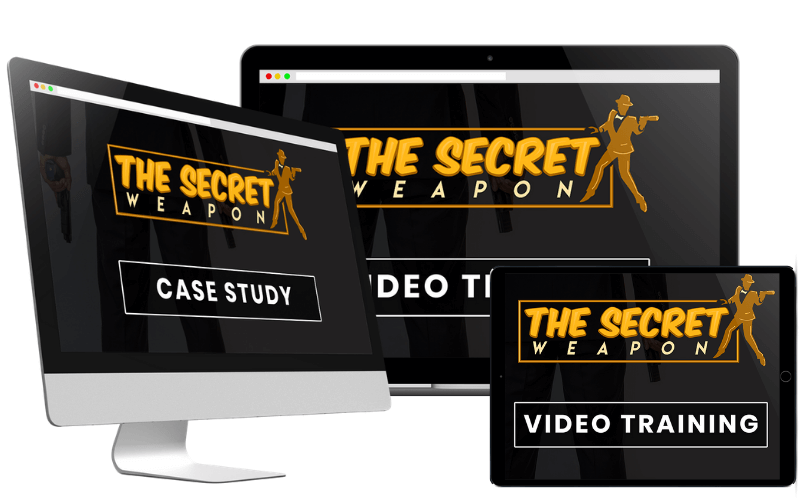 Learn how to build a high converting squeeze page and a bridge page to capture leads
How to set up your auto-responder for the best results and load up your email follow up sequence
Get access to an extra strategy to drive traffic to your squeeze pages from Facebook

BONUS 3 – Avalanche List Building 2.0
Discover how to build a highly engaged email list from your blog/website
Get access to the best strategies and most strategic places to capture leads
Learn how to drive hordes of potential subscribers to your website

BONUS 4 The Awakening
Discover how to instantly position yourself as an authority among your subscribers
Learn how to nurture your list in order to get the best results
Learn how to write effective copy for your emails to boost your opens, clicks and sales

BONUS 5 Vendor Bonuses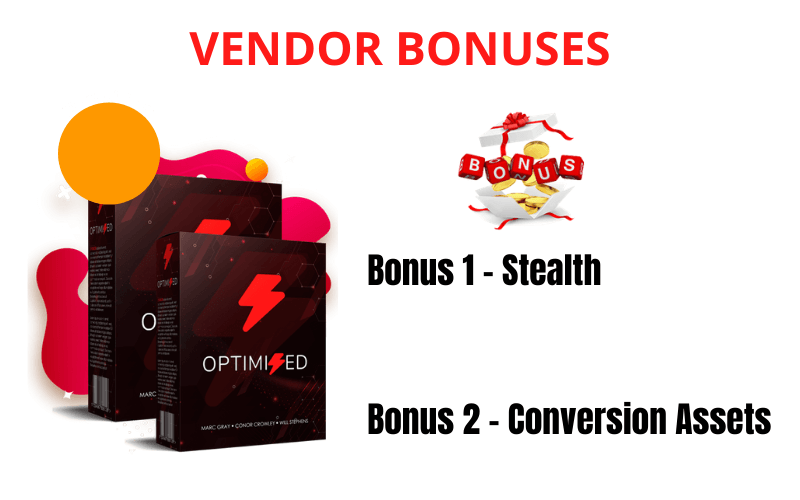 All bonuses from the vendor will be delivered in the members area of Optimized

Looks Good, huh. Well To Get All These Bonuses All You've Got To Do Is…
>>> Click Here To Secure Your Copy + My Exclusive Bonuses <<<

If you choose to purchase Optimized via my link, then you're exclusive bonuses will be automatically delivered inside your Warrior+ account. See the picture below on how to access your bonuses


Thank you for your time and effort to check out my Optimized Review. Don't hesitate to contact me if you got any questions regarding this Optimized Review, or anything else marketing related. Just hit me up and I'll get back to you asap.