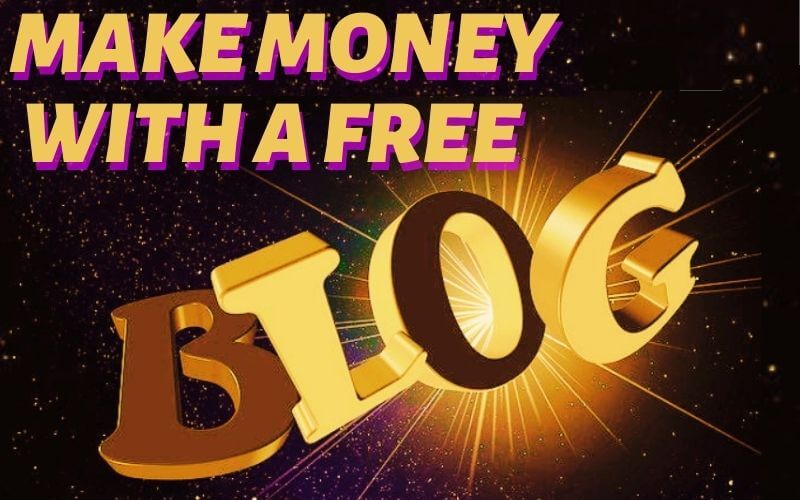 In this post I'm going to outline a simple strategy to make money online with a free blog. Not only is this strategy free to implement, it's easy to do as well.
A blog is essentially a shorter name for a "Weblog," and it is actually a free (or paid) website which can be used for a variety of reasons. In this scenario, you will use it for internet marketing, and more specifically to promote products as an affiliate marketer.
There are several free blog platforms that you could use for this strategy such as WordPress.com, Wix.com or Tumblr.com. But for the purpose of this post, we'll be using a Blogger blog, which is a FREE blog that can you can create via Blogger.com.
Blogger is owned and operated by Google, so if you have a Google Account, you can log in using the same login name and password, and you don't even have to set up a new account! If you don't have an account with Google already, you can create one for free.
You'll be able to start building your blog from the moment you've logged in to Blogger.com. You'll receive a personal sub-domain that looks something like this:
https://www.YourDomainName.Blogspot.com/
It goes without saying that you need to replace "YourDomainName" with any name you desire for your URL. Most bloggers will go for keywords that are popular search phrases so their blog will rank better in the search engines.
For example, if you are in the make money online niche and your main focus is on email marketing, you might want to choose a name like "BuildYourListFast.Blogspot.com". The term "How to build a list fast" is a popular search term that gets hundreds of hits every single day.

If you wish to do so, Blogger also gives you the ability to add your own custom domain name. One word of advice here, buy your custom domain name with Google Domains as this will be the easiest way to connect your domain to Blogger.
And if you don't like any of the standard themes provided by Blogger, you can download a theme to your liking at btemplates.com. On this site you'll find well over 4000 FREE blogger templates.
Just download the theme of your choice and upload it to Blogger.
And this brings us to…
My Simple And Effective Strategy To Make Money Online With A Free Blog…The " RB + AL + T = $$$" Formula
Confused? Well, don't worry, I hate math too…just watch how easy this is:
RB stands for "Review Blog"
This is the blog that you will build and use to write in-depth reviews about products that you will promote as an affiliate.
AL stands for "Affiliate Links"
You must insert your affiliate link for the product you reviewed at the bottom of each review. Your "affiliate link" is the URL you direct people to, so that you could earn a commission if they buy the product.
T stands for "Traffic"
This is the traffic you'll get from product reviews and value posts, as well as visitors searching Blogger for niche related content/articles. The more popular your niche, the more traffic you will receive.
$$$ = MONEY!
This of course stands for the money you'll earn whenever you make an affiliate sale!
Think about it…this entire process won't cost you a dime 'cause the blog is free, and becoming an affiliate on Clickbank.com, Digistore24.com, JV Zoo or whatever platform you prefer, are ALL 100% FREE.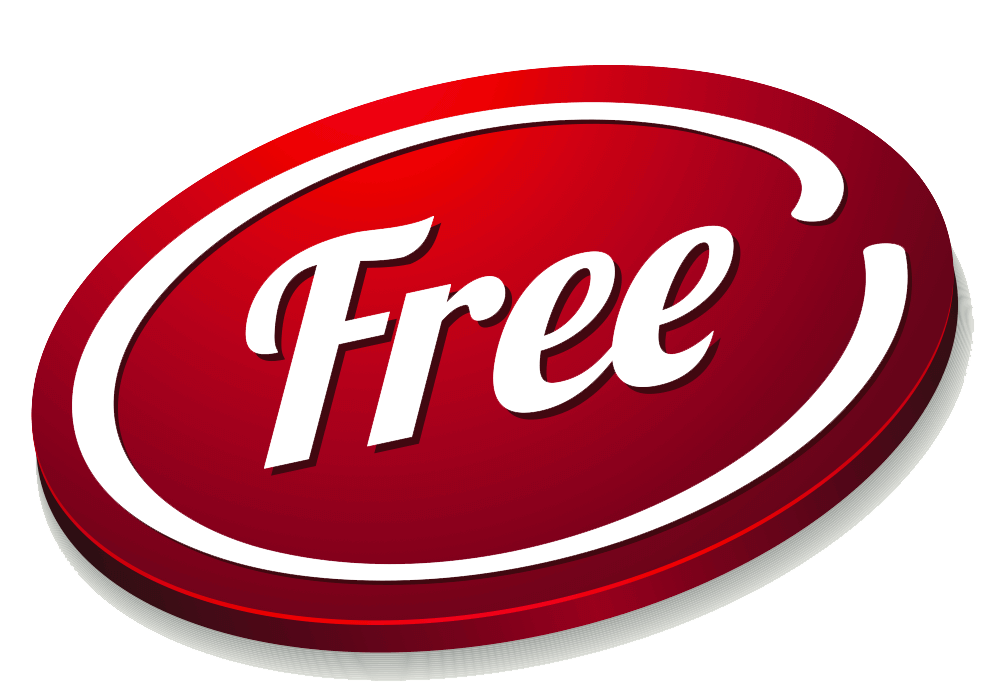 When your articles are keyword optimized you'll get traffic from the search engines which is also 100% FREE and you can use various social media networks and/or YouTube to drive extra traffic to your blog. Really, that is all it takes to make money with a blog.
There are lots of marketers who use this method to make tons of money. On top of that, you can scale this method beyond your wildest dreams. The more articles you have out there, the more money you'll make.
If you're writing skills are absolutely terrible you can always outsource the writing process. This would be an expense and it could cost you anywhere from $5 – $50 per article depending on the quality and the word count of the article.
Now this was just a brief overview of the strategy…
Here's A More Detailed Step By Step Action Plan To Get You Started Right Away
I'll be using Clickbank in this guide but feel free to use any affiliate network of your choice
Step 1 Sign Up For A ClickBank Account
Clickbank is completely free to sign up for and you basically only need to create a username and a password and your good to go.
Once you finished the sign up process, you'll need to search the marketplace for niches and products to promote! All you have to do is click the little "Marketplace" button at the top of the website.

Most products listed on Clickbank are "digital" products. They are labeled as digital products because they can be downloaded shortly after purchase and there is no need for shipping or receiving physical goods.
On the left side you'll find a menu where you can select different categories and subcategories.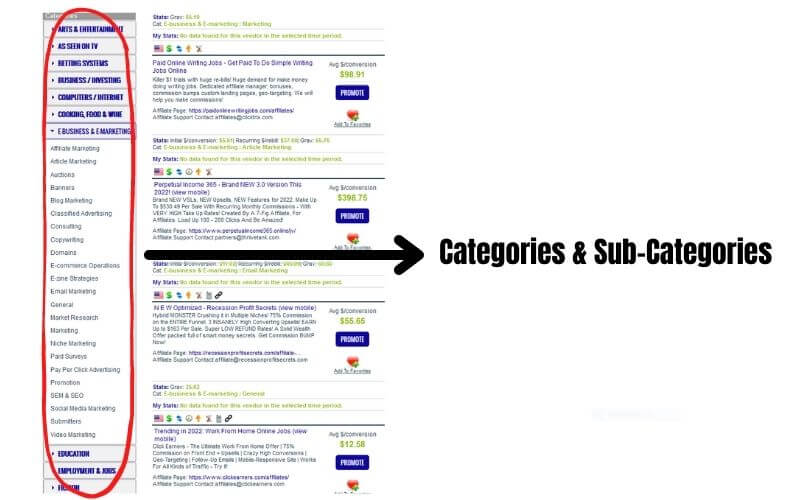 Once you've picked your favorite category, you'll be taken to a page full of listings of products to promote. On this page you'll get all the important information such as product price, commission percentage, and the gravity.
The gravity reflects how many affiliates earned a commission for that particular product in the past 30 days. Most vendors will also have a link to a JV Page where you'll find everything you need to promote the product, such as banners, email swipes and in some cases dfy articles. And of course, you can also view the sales page, which is where you'll be making your money.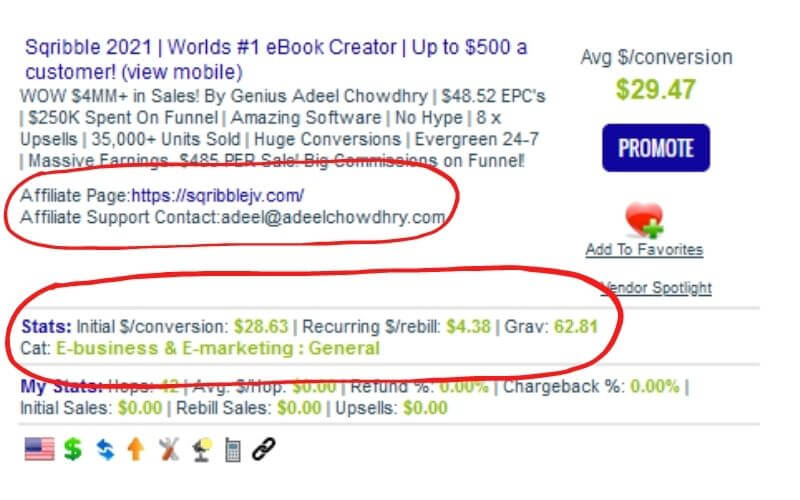 The products on Clickbank are great to promote because they pay out incredibly high commissions to their affiliates.The majority of vendors will pay out a 75% commission!
If you were to promote a $47 product, you would be able to make $32.50 for each copy sold. The coolest part is that you don't even have to sell them the product, since the sales page is designed to do the selling on your behalf. Your only job is to send potential customers to your affiliate link.
An 'affiliate link' is a link which is given to you in order for you to promote a specific product. That link will lead the visitor to the page where the product vendor sells the product, but it will have YOUR affiliate ID in the URL.
Your affiliate ID will be the username that you've chosen when you signed up for a Clickbank account.
Here is an example of an affiliate link or a Hoplink as Clickbank likes to call it :
http://YourAffiliateID.ProductName.Hop.Clickbank.Net
Needless to say, but you should replace "YourAffiliateID" with your actual username. The "Product Name" is the code name of the product but this will be filled in automatically when you request your link.
All you have to do is click on the "Create Hoplink" tab directly beneath the product that you want to promote.
The magic of your affiliate link is that it sends your visitors to the exact page they would have seen if they hadn't been referred by you.The only difference is that because your affiliate code is placed within the link, you get the commission and the money is deposited into your Clickbank account.
And here is where your review blog comes into play. Post product reviews for Clickbank offers on your blog and put your affiliate link at the bottom of your reviews. A percentage of visitors to your blog who read the reviews will click on your affiliate link. Out of those people, some might actually buy the product once they visit the link.
A common conversion rate is 2%. So, out of every 100 visitors to your affiliate link, you should have 2 buyers.
If one sale would make you $32.50 you would be looking at an average of $65 per 100 visitors. It's really not that hard to drive 100 visitors to your blog…and even much more.
Step 2 Sign Up With Blogger.com
Once you create an account, you can start and build as many blogs as you want, right away. It literally takes minutes to get started. If you don't have a Google account already you will have to create one, but that is 100% free.
Then, by clicking on the "Create a Blog" link, you will be sent to the "Create a Blog" section.
Here you'll need to create a name and a domain for your blog. Choose a name that is either related to your niche or product you're promoting. The domain name will be the web address that people type into their browser to visit your blog.
All the official guidelines, tutorials, help and information to get your Blogger Blog up and running can be found over here.
Step 3 Pick A Product To Promote
Return to the Clickbank Marketplace and pick a product or products to promote. Here you can pick a category and even a sub-category. For example, a popular niche is "E-Business & E-Marketing" while the most popular sub-categories are "Affiliate Marketing" and "Email Marketing".
Step 4 Write Your Product Review
Remember, you are marketing a product here…the product is already made. Your only job is to find the people who need the information you are offering, and then give it to them.
Write your reviews in an informal way as if you were talking to a friend. Give them the ins and outs of the product without being salesy. You don't have to write a sales pitch…the sales page for the product you're promoting will have one already. All you need to do is to guide people to the sales page.
In a review you should always include the product name, creator of the product, explain what the products are about and of course the price. Always inform your readers about the upgrades and talk about the pros and cons of the product.
A review video together with your article could lead to even higher conversions. Another thing you can do is offer a free bonus to people who buy through your link.
This will lead to even higher conversions as it forces people to buy through your link and not other people's affiliate links.
Don't try to optimize your reviews solely for the search engines. Optimize them for the people who visit your site and read the reviews. If you do this, you'll get more people to your site, so the search engine numbers will take care of themselves.
Here are some essential SEO guidelines for product reviews:
● Try to go for at least 700 – 1200 words
● Your keyword must be in the opening paragraph
● Use H1, H2 and H3 tags to separate your content
● Make use of bullet points or lists throughout your reviews
● Optimize your images with titles and alt descriptions
● Link to other pieces of content on your blog
● Share your blog articles/reviews on Social Media
● If possible, embed a YouTube video in your reviews
If you can not write a product review to save your own life, you can easily outsource it to someone. A freelance writer would not charge too much for a basic product review. Your fee will depend on the word count and the experience of the writer.
You can also take a massive shortcut by using Arun Chandran's Top Clickbank Reviews or his Passive Income Reviews. It's a massive time saver and it's far less expensive than hiring a freelancer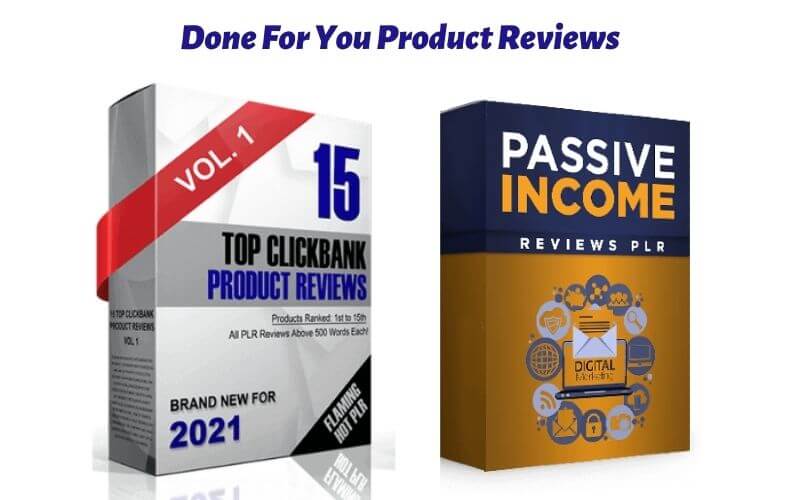 To get the most out of these reviews I strongly advice you to rewrite them so they'll become unique. A tool like Quillbot can be very handy to quickly come up with fresh and unique content without lowering the quality of the original review/article.
Step 5 Add Your Affiliate Link To The Review
The best place to add your affiliate link would be at the bottom of your review. At the end, you want to give a strong "Call to action" to persuade the reader to click on your affiliate link.
For example, "Click Here To Check Out (ProductNameHere) and (Something positive that the product will do for them)."
So, your call to action at the end of the product review would look something like this:
==> Click Here To Check Out Traffic Mastery & Double Your Sales In 30 Days
Step 6 Drive Traffic To Your Blog
You wouldn't want random site traffic, you need 'targeted' traffic. Visitors that are interested in the product you are reviewing are considered targeted traffic.
They are really interested in what you have to offer. And that's the beauty of niche marketing, you find people who need what you have to offer and just deliver it to them. It's easy money, and you're helping people along the way.
Apart from using SEO techniques when you write your reviews there are a lot of other ways to drive additional traffic to your blog.
Here are just a few examples:
Facebook Pages & Facebook Groups
Pinterest, Instagram, Twitter,…
Medium, Quora, Yahoo Answers,…
Classified Ads & Paid Ads
YouTube, Daily Motion, Vimeo,..
The more targeted leads you drive to your website…the more sales you will make. It's simple, but it does take work.
There you have it. This simple, yet efficient way of building a review blog to promote affiliate offers is free to implement and has huge income potential.
It all comes down to the amount of traffic you get to your blog and the conversion rates. If you take this seriously, you can build a 5 figure per month business or more using this exact model.
So, this was my action guide to make money online with a free blog. Now go out there and make some money. I wish you nothing but success.
All the best,
Dave