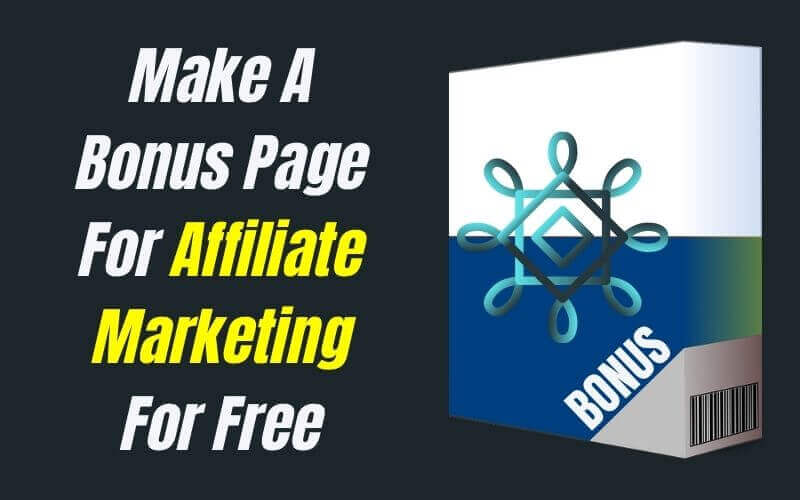 It's a fact that you can easily double your sales by providing a bonus. To present that bonus you've got several options like a WordPress site or any of the well known page builders. These assets often come with a hefty monthly fee that most beginners don't have. But there are other options.
If you'd like to know how to make a bonus page for affiliate marketing for free – Read on!
First And Foremost…Are Bribes And Bonuses Really Necessary?
This topic has been frequently discussed, particularly in the 'make money online' niche. Many affiliates often stack 20 to 50 or more 'free goodies' for buyers who purchase through the affiliate's link.
These digital products are often downloaded via one of the countless PLR membership sites available. The bonuses are then given an unrealistic value, such as "$1797 real-world value." Despite this, you're unable to buy a can of coke with these 'high value' bonuses.
While giving bonuses might be a good approach to encourage subscribers to buy through your affiliate link, the bonus must be unique, useful, and not overly hyped up. But what is an excessive number of bonuses? Just ask yourself – What will your buyer do with 50 additional products?
Generally, the biggest affiliates offer three or four highly relevant and worthy bonuses that their customers would really like to get. When you have your own product that isn't freely available on over a hundred PLR sites, your customer will recognize the value. Even more so if you give away a product that people are actually paying for.
Let's assume you're selling a popular WordPress plugin, providing it as a bonus to another vendor's software will result in considerably higher conversions. Giving away 50 irrelevant eBooks that date back several years will not help your cause. Just use your common sense while promoting.
And this leads to the following question. Where does it all end?
Some marketers refuse to provide bonuses, instead relying on the goodwill and loyalty they've build up with their list to help them close sales. This also works… but you must be realistic. Most new marketers make the mistake and fail to see the pool in which they are swimming.
You need to consider the market in which you're competing. If you're offering a newly launched product and just about every other affiliate is providing bonuses, greed will almost always prevail. Your subscribers will be intrigued by the bonuses of your competitors and may decide to buy from them rather than from you.
That's just the way it is. In the MMO niche, buyers are on several lists. When a new product is released, there is always a hype surrounding it, and everyone and their grandmother will mail for it. .
Your subscribers are once again exposed to a plethora of offers and bribes to get the product through several affiliates. It's a buyer's market, and they have a lot of options. You'll most likely lose the battle if you don't have a bonus.
In the end, it all comes down to your niche and what your competitor's are doing. Offering a bonus just might help to convert a cautious visitor into a paying customer. What you need is the ideal bonus at the right place and right time.
As it goes, I've done a full blown blog post about creating unique affiliate bonuses. So, if this sounds interesting, then you'll be able to find that blog post over here.
Which brings us to the essence of this post…
Here's How To Make A Bonus Page For Affiliate Marketing For Free
We're going to build our bonus page using Google Sites. If you wonder why we're using Google Sites, let me explain.
First of all, it's 100% free to use and the only thing that you need is a Google account. So, if you don't have a google account yet, then head over to Google and create one.
Secondly, this page builder is very easy to use so even people with no technical skills whatsoever are able to build an eye-catching page.
And last but not least, Google sites is probably the only free page builder that will not show any annoying third-party ads on your page. This is very important because on your bonus page the only clickable links should be your affiliate links.
Anyways, enough chit chat so let's get cracking. You can basically watch over my shoulder as I create the page from start to finish.
== How Create A Free Bonus Page Using Google Sites ==

Right then, now that you've got your bonus page up and running it's time for the last phase of this process…
How To Deliver The Bonuses To Your Customers
To keep things simple we're going to use a couple of other free services from Google, such as Google Drive, Google Docs and YouTube.
1.Step 1 – Google Drive
Google Drive is a cloud based storage where you can store your PDF and ZIP files, or other types of documents that you want to give away as a bonus. Google Drive is completely free to use and they offer up to 15 GB of storage space, which is more than enough to get started.
Once you've uploaded your files you can create a shareable link. That's the link that you need to paste into your Google Doc (see Step 3).
2.Step 2 – YouTube
If you're giving away videos, whether it be your own or videos that you have the rights for, you want to upload them to YouTube and keep them as unlisted.
This way your videos are hosted on YouTube but they are not visible for the main public. Only people who have the video link will be able to watch these videos.
It's needless to say that this is the link that you want to to paste into your Google Doc (see Step 3).
3.Step 3 – Google Docs
Your Google Doc will literally function as your download page. On this document you want to put all the links that you've previously created within Google Drive or YouTube. If you've got the rights to give away entire courses you can also put that access link on your Google Doc.
When you've pasted all the links into your Google Doc, you want to create a shareable link. That's the link that you want to share with your customers.
If you're promoting products from market places such as Warrior Plus, JV Zoo or Paykickstart, you'll be able to deliver your bonuses automatically.
Just paste your link in the box that says " Buyer Bonus URL" and a blue access button will be added. This button will give your customer access to the bonuses.
Unfortunately, ClickBank doesn't provide this service. When you're promoting a ClickBank offer you will have to deliver your bonuses the old fashioned way. In other words, you'll have to provide the "bonus link" to your customer via email.
OPTIONAL
Building A Buyers List By Delivering Your Bonuses
The biggest disadvantage of being an affiliate is that you don't collect the email addresses from your customers. That privilege is reserved for the vendors only.
But building a buyers list is very important. As a matter of fact, it will be the most valuable asset of your entire business because people who have purchased from you will be much more likely to buy again.
When you have a list of buyers, you can always promote new products that will appeal to these people and you will be able to generate sales over and over. There is no limit to what you can achieve. Luckily, there is an easy way to build a buyers list as an affiliate.
Here's what you'll need to do:
Instead of providing a direct link to your Google Doc you want to send people to an opt-in form first.
So, you'll need to create a list inside your auto-responder and call it "bonus_buyer_list". Once your list is created you'll need to create a simple sign-up form.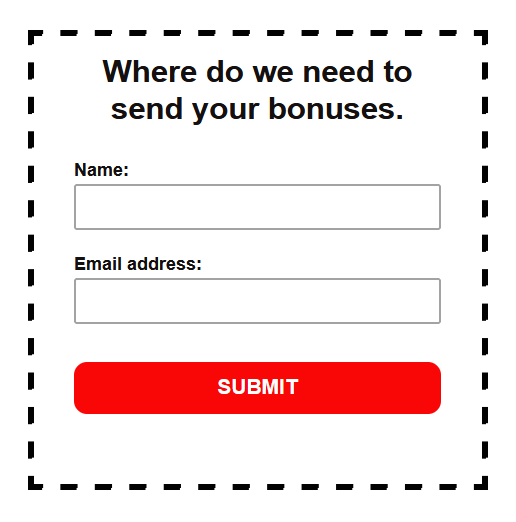 Connect that sign-up form with the list you've created and with the URL of your Google Doc. Let your auto-responder host the sign-up form and copy the URL that will be given to you. Paste the URL of your auto-responder in the "Buyer Bonus URL" box and click save.
Now your customers have to fill in the form first before they're redirected to your Google Doc. They will get there bonuses and you will have their email address, so everybody wins!
I hope you've got tons of value from this guide on how to make a bonus page for affiliate marketing for free. Hopefully, when you put it into action, you'll double or even triple your sales.
If you have any questions whatsoever, just hit me up in the comments section below and I'll try my best to help you out.
All the best,
Dave