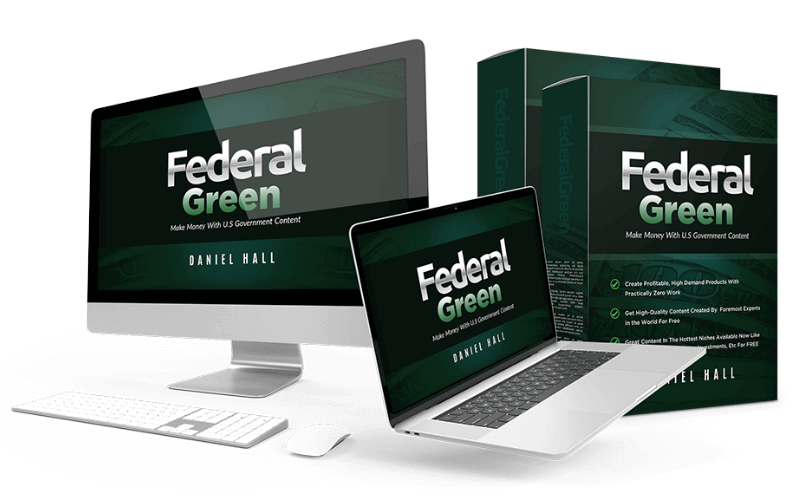 Federal Green Review – How To Take Free High-Quality Content Created By The Federal Government And Turn It Into A Hot Selling Product
Hello there everyone and welcome to my Federal Green Review. Federal Green, which is created by Daniel Hall, is an in-depth training on how to make a small fortune with government produced public domain content.
The term "public domain" refers to all kinds of products that are not protected by any copyright, trademark or patent laws. These products are freely available to the public and anyone can use a public domain work to create a new product and sell it for a profit.
The largest producer of high quality public domain content in the world is actually the Federal Government of the United States. Most of the content is in red hot niches such as weight loss, exercise, money & investing, self-defense and travel among many others.
Government produced content is always of high-quality and usually created by top experts in their field. This literally means that you can leverage someone else's expertise and turn it into profit.
But while all of this is true, it can be a real challenge to actually find the content and transform it into a unique product. That is why Daniel decided to create his Federal Green course.
Federal Green is going live on 09/08/2021 at 10.00 AM/EST
Watch My Federal Green Review Video Below So You'll
Know What You Can Expect

Secure Your Copy + My Exclusive Bonuses


To launch Federal Green Daniel teamed up with none other than Amy Harrop who is well known in the printables niche. Amy released several training courses about public domain materials and creating printables such as PD Visual Prints and Easy Learning Printables.
They both are experts in their field and apart from sharing their knowledge through training courses they're also making thousands of dollars selling products on marketplaces such as Amazon and Etsy.
Most people dismiss content listed in the public domain because they think of it as old and useless but they couldn't be more wrong. Companies like Marvel and Disney build billion-dollar empires on this old public domain content.
They also don't realize that government created content is not even eligible for copyright and that 99% of it goes immediately in the public domain. Not only is the content brand new but it's also of superior quality.
When you know how to use it government public domain content is a true goldmine. And that is exactly what Daniel is going to teach you. He'll show you how and where to get the content and turn it into a product that people gladly pay for.
You can create whatever you desire because the possibilities are virtually endless. Really, the only limitation would be a lack of your own imagination.
Here are just a few examples of products that you could create:
E-books
Videos
Clothes
Wall art
Mugs
Bags
Stickers
Cards
Games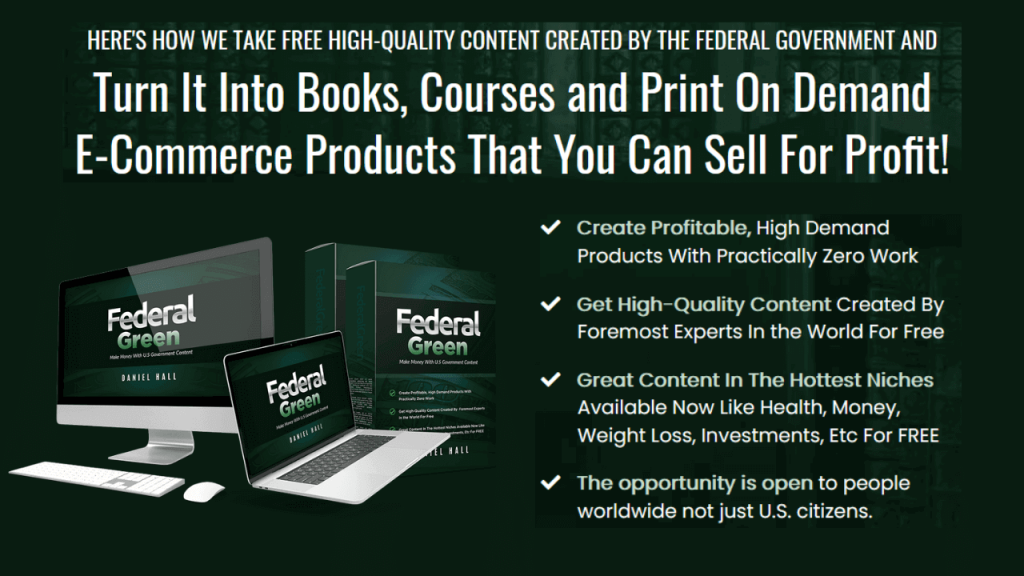 On the sales page of Federal Green you will also find 4 real-life case studies that will show you the huge earning potential of Government Public Domain materials.
I would personally choose a simple print on demand business model. Why? The POD model is simple. You'll create attractive graphics/quotes/designs and upload them to print on demand sites such as Custom Cat, Printify or Printful.
These designs can be printed on hats, t-shirts, hoodies, mugs, stickers, phone accessories, tote bags and much more. POD companies offer hundreds of options which you will want to look at.
Despite the wide range of products available, you'll never have to make or store any of them. The only thing you'll have to do is make sure your design fits the template for each product.
Another advantage of POD is that these products don't really solve any problems. You'll rarely if ever find a neck collar/brace that relieves neck aches that's sold with POD. What does this mean?
It means that POD products appeal to people's emotions. People buy t-shirts, hoodies, etc. that have designs which appeal to their passions and therefore it's a lot easier to make the sale.
To get a better understanding of what you can do with public domain material I highly recommend that you watch the interview between Daniel Hall, the creator of Federal Green, and Charles Harper.
Watch The Interview Below And Understand The Public Domain





>>> Click Here To Secure Your Copy Of Federal Green <<<

For more valuable info about public domain or PLR you can:
Here's what you will find inside the members area

The course is split up into several modules with the following subjects:
Different types of Government Public Domain
Best places to find Government Public Domain
How to determine if it is in the Public Domain
Compliance record keeping
Market research to determine what will sell
The different assets that can be created
How to create the assets
Marketplaces where you can sell it
Extra bonuses (Selling Government Maps, 5 Minute Products, Fiverr Products)


Price And Funnel Of Federal Green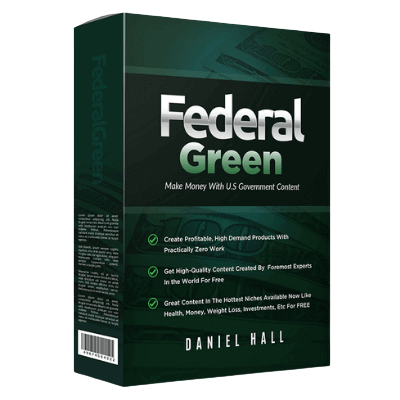 PRICE: Federal Green $37

Upgrade 1 PD Super Pack $27
In this upgrade you will discover how to create video courses with public domain content, and it also comes with some awesome exta bonuses.
Upgrade 2 Simple Video Profits Super Pack $27
In this upgrade you will learn how to create your videos with free tools- the fast and easy way.
Upgrade 3 Real Fast VIP – Real Fast Vip Trial Offer $7 For a 7 Day Trial afterwards $47/Month
Get access to a wide variety of training and coaching programs + weekly updated content for product creation.

Secure Your Copy + My Exclusive Bonuses

Get ALL These Exclusive Bonuses Together With Your Copy Of Federal Green

Bonus 1 – Digital Profits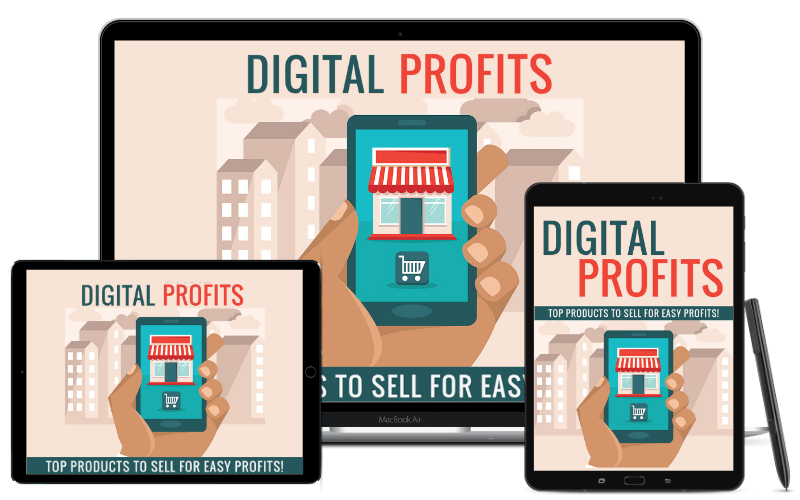 In this course you will discover the hottest selling digital products that will allow you to maximize your profits instantly. You'll find out how to reuse them and create a unique product with no upfront costs. Once you've created your products they'll generate a passive income for years to come.

Bonus 2 – Public Domain Secrets
In this course you will learn how to use the public domain like a pro. You'll discover 10 business models that enable you to monetize your public domain content in different ways. Plus you'll get access to 150 websites where you can find an unlimited amount of free content.

Bonus 3 – Etsy Selling Secrets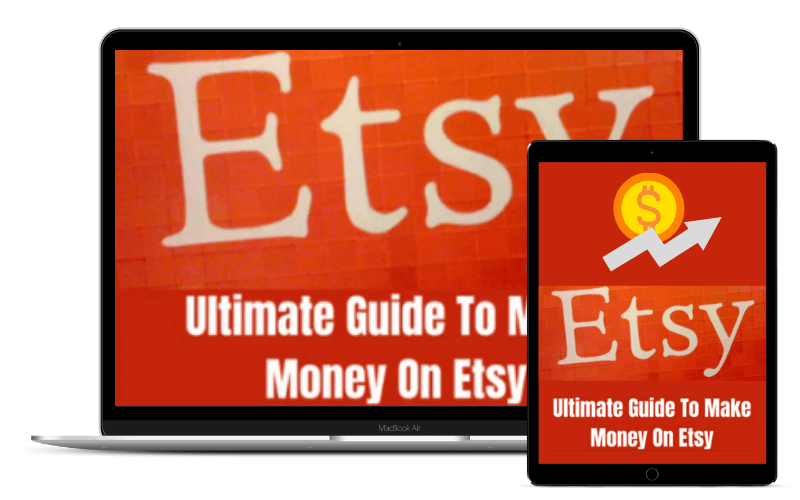 In this course you'll learn the best ways to set up your store on Etsy. By creating a store on Etsy you'll immediately solve your traffic problems as the platform gets thousands of visitors per day and most of them are repeat buyers. You'll discover how to rank your store and drive boatloads of highly targeted visitors to your products.

Bonus 4 – All The Vendor Bonuses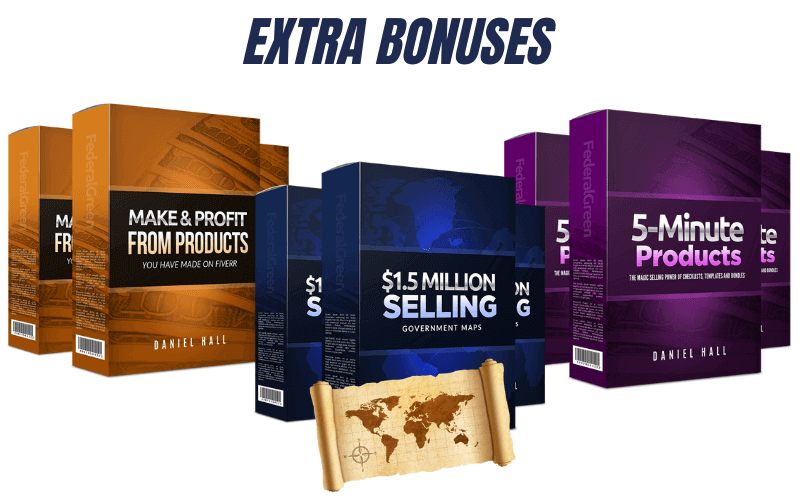 You can get access to all the vendor bonuses in the members area of Federal Green

Looks Good, huh. Well To Get All These Bonuses All You've Got To Do Is…
Click The Button Below To Secure Your Copy Of Federal Green


If you choose to purchase Federal Green via my link, then you're exclusive bonuses will be automatically delivered inside your Warrior+ account. The picture below shows you how to access your bonuses




We've reached the end of this Federal Green Review. So, if you have any questions in regards with this review or anything else then just leave a comment below and I'll get back to you as soon as possible.