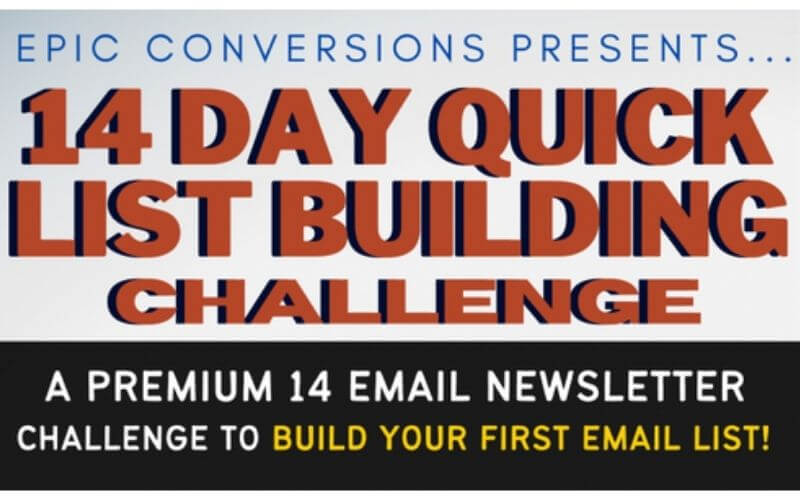 14 Day Quick List Building Challenge Review – 14 High Quality Emails All Geared Towards Building Your List From Scratch
Let me force you to build a list. I know, that's a pretty bold statement to start of my review. But then again, that's exactly what this PLR newsletter package from Kam Jennings will do for you or your customers. If this sounds interesting, read on, as I'm about to reveal all the details in this 14 Day Quick List Building Challenge Review.
Today we'll take a closer look at one of Kam Jennings monthly PLR newsletter packages, and this time it's all about building an email list from scratch. The 14 Day Quick List Building Challenge is something totally different than Kam's previous newsletters.
Watch My 14 Day Quick List Building Challenge Review In Video Format

Secure Your Copy Of The 14 Day Quick List Building Challenge


It's not just a collection of emails but an actual challenge, or should I say a step by step action plan where Kam is literally going to take you by the hand and help you to build a list.
Each newsletter will give you one daily task that you have to complete. By the time you reach newsletter nr.14 you'll have a list filled with targeted subscribers.
And let's not forget the fact that you also get a full PLR license. So, apart from building your own list by implementing what Kam is teaching, you can help others to build their list as well, or you could simply rebrand and sell this entire package and keep 100% of the profits!
The 14 Day Quick List Building Challenge goes live on 28/05/2022 at 01.00 AM/EST
Why Should You Even Consider Buying This PLR Newsletter Package
If you've been in the internet marketing space for any longer than 5 minutes than you already know the importance of having an email list, so I'm not going to bore you to death stating the obvious.
Instead, let's have a look at what Kam is offering here, and more importantly, why he's the "go-to" man when it comes to building your list and email marketing in general.
First off, Kam has been marketing online for ages and he's utilizing multiple platforms to get his message out. He's running a weekly podcast, runs a blog, build out several YouTube channels and is active on more social media platforms than I care to remember.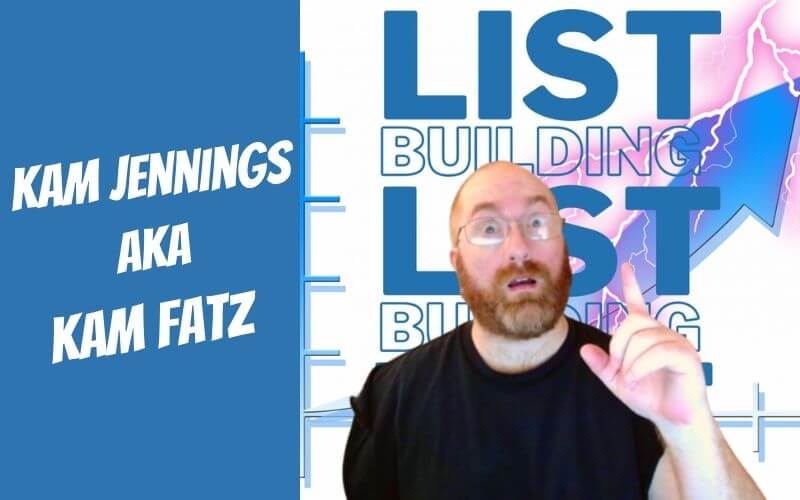 Apart from being helpful and offering great advice on these platforms his presence there is first and foremost to build his list. So yeah, he definitely knows what he's talking about when it comes to building a loyal audience.
And that's the key phrase here – loyal audience. Kam has the gift to educate his audience in a very entertaining way all while gently recommending useful products in the process.
This results in him getting stellar results whenever he decides to run a promotion, winning affiliate leader boards from marketers with lists 10 times the size of his own.
And that's exactly why you should consider to pick up this package, or any other written PLR content from Kam. You can delve into his mind, exploit his writing skills and position yourself as an expert in your field and you won't have to lift a finger to do so.
Here's What You Get With The 14 Day Quick List Building Challenge
In a nutshell, it's a complete email training that walks you through a 14 day challenge to build a list. The newsletters provide daily tasks, broken down step by step guides, and unique strategies that build upon each other.
Your PLR package includes all the following items:
14 Expertly written emails on the subject of list building (completely UNBRANDED)
A made to fit Affiliate Program black book containing some of the best programs to promote with this email series
An instructional video on how best to use the email series to make money
A BONUS case study on list building.
And an official PLR license on the emails, the black book AND the instructional video!
His no-nonsense PLR license enables you to use the content in any way or form that fits your business.
== You Can Watch Kam's Explainer Video Below ==


Should You Get This?
A LOUD AND CLEAR YES! It's actually a no-brainer because every marketer no matter what niche they're in needs to build an email list.
If you're planning to re-sell this package you won't have any problems finding a suitable audience. As a matter of fact, most of your potential customers are probably already around you – Social Media, YouTube, Your Blog, Your Email List, etc.
If you don't have a list or an existing audience yet, than by all means use this package to get started and build a tribe of raving fans as soon as today.
The Pros
Apart from the 14 expertly written email letters that can make you money in multiple ways you also get access to an extra bonus called "League Of List Builders".
League Of List Builders is a video training course jam packed with valuable information and is worth picking up the 14 Day Quick List Building Challenge alone.
League Of List Builders comes with his own bonus section where you'll find The 5 Step System to Acquire and Sell Profitable Digital Products Easily, which is another diamond in the rough.
The Cons
The only problem that I have with this product is the ridiculous amount of upgrades. Come on Kam, there's no need for 6 upgrades and you know it, just raise the price of the upgrades that are relevant and ditch the rest man!
Price And Funnel Of The 14 Day Quick List Building Challenge
Get the 14 Day Quick List Building Challenge For Just $5.99
NOTICE: Price will rise to $14.99 on 1/06/2022 NO EXCEPTIONS!


Upgrade 1 The 14 Day Quick List Building Challenge Deluxe Media Package $37 – It takes the original 14 day email sequence and transforms them into audios, videos, blog posts and a report.
Upgrade 2 The Email Emperor $15.99 – A 4 day workshop to get your email marketing skills to the next level
Upgrade 3 Audio Lessons From Sean Mize $19.99 – 37 audio lessons with MRR on all things related to online marketing.
Upgrade 4 Guru In A Box $19.99 – 100 Audio lessons with PLR from Kam Jennings
Upgrade 5 The Saber Launch System $97 – A proven step by step blueprint to launch your own products
Upgrade 6 The Epic Conversions Insider's Club $10.80/Month – The Insiders Club offers group coaching, original monthly product releases, and DFY content packages in the IM space
---
Get Access To ALL The Bonuses Below If You Purchase 14 Day Quick List Building Challenge Through My Link Today
BONUS 1 – A Set Of DFY Covers To Rebrand Your Newsletters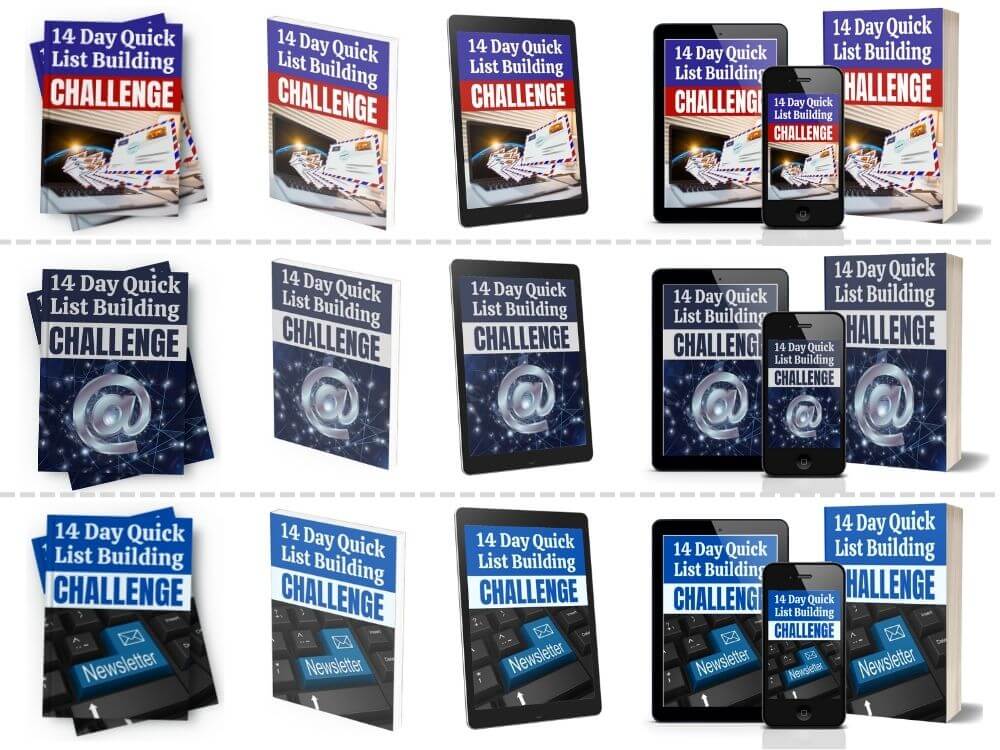 You'll get a set of 3 different DFY and unique product mock-ups to use as part of your rebranding process so you don't have to use the e-cover that Kam provides. Use these on your sales page, blogs, social media platforms or wherever you wish to advertise your new product.
To prevent saturation this bonus will be strictly limited to the first 20 people only!
BONUS 2 – A Set Of Congruent Banners To Promote Your Rebranded Product
I also made some congruent and unique dfy banners to promote your rebranded product. These banners come in 2 different formats, 360×360 and 720×720. Feel free to use these banners wherever you wish to promote your rebranded product, be it your blog, social media, free ad platforms,etc
To prevent saturation this bonus will be strictly limited to the first 20 people only!
BONUS 3 – DFY Lead Magnet That Could Serve As The Entry Point Of Your Sales Funnel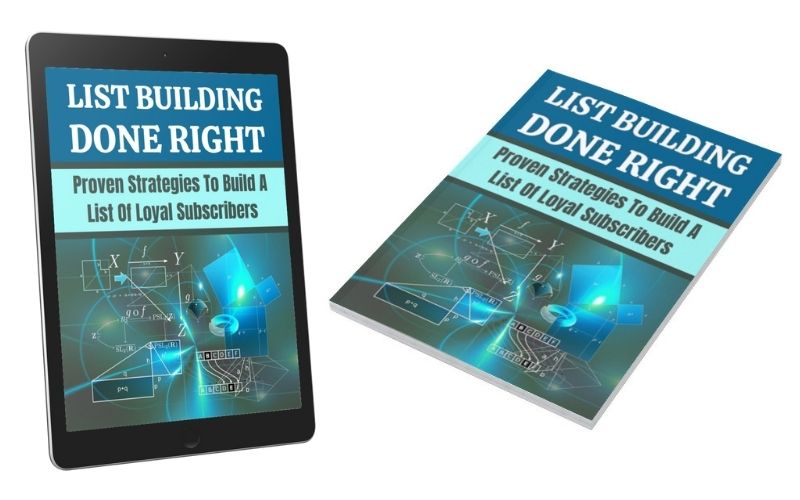 You'll get a done for you report that covers various list building strategies. So, it's perfect to use as a lead magnet to get subscribers onto your list, and either sell Kam's newsletters to them, or use the newsletters to educate your new subscribers while making affiliate commissions along the way.
This unique lead magnet comes together with all the source files so you can easily add your own links, a DFY squeeze page and a PLR license.
BONUS 4 – 10 DFY Emails To Build Trust And Rapport With Your Subscribers/Customers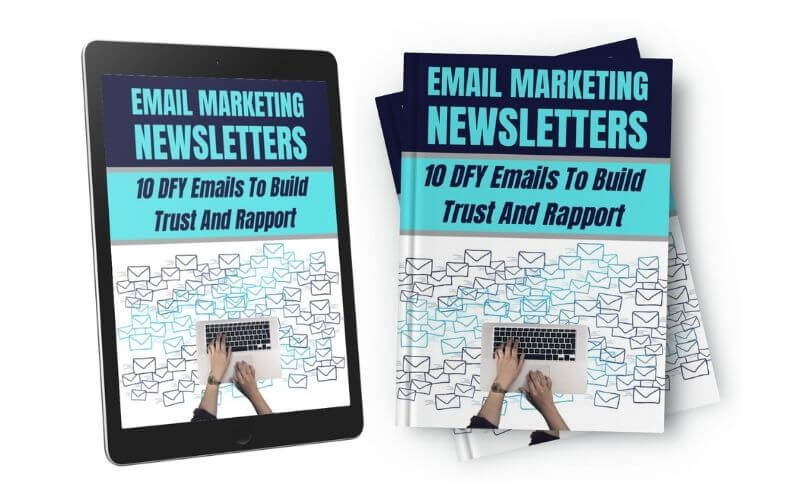 These emails are a perfect addition to Kam's newsletters as they will further educate your audience on the topic of email marketing. You could even use these emails as the follow up sequence for my DFY report, and gently promote your rebranded newsletters in the emails.
You also get a full PLR license to use the emails in any way you wish.
BONUS 5 – All The Extra Bonuses From Kam Jennings
These are all the extra bonuses from the vendor and they will be delivered in your members area of the 14 Day Quick List Building Challenge.
Looks Good, Huh! Well To Get All These Bonuses All You've Got To Do Is…
Give That Blue Button Below A Good 'Ol Click


If you purchased through Warrior Plus…Log into your account, find your purchase and click on the blue affiliate bonus button to access your bonuses.
Right then, we've reached the end of this 14 Day Quick List Building Challenge Review. If you have questions in regards with this review or my bonuses then drop me a comment below and I'll get back to you asap.