Hello everyone and welcome to my review of John Thornhill's Ambassador Program. If you've been searching for ways to start an online business that can generate passive income, you must have stumbled upon John Thornhill's Ambassador program.
Unlike most other make money online courses this program comes with a hefty price tag, so you've made a wise desicion to do some research first.
The "make money online" niche is a cesspool littered with conman who make unrealistic income claims by the push of a button. But rest assured, John Thornhill is NOT one of them.
John's income proof may seem out of this world but it's 100% legit. No need for Photoshop, fake testimonials or any other shady tactics. He's a multiple JVZoo 'Product of The Day' Vendor, top 1% JVZoo affiliate, top 1% ClickBank Platinum Vendor & Affiliate and a world renowned success coach.
He follows the exact same strategies as the ones he's teaching his students. No "push button buyer traffic in 36 seconds" crap – BUT the solid fundamentals that every online business must have.
Over the years John had many students that have now become well known marketers such as Omar Martin, Steven Alvey and Dawud Islam. Omar even surpassed John's level of success and is probably one of the highest earning online marketers in this industry.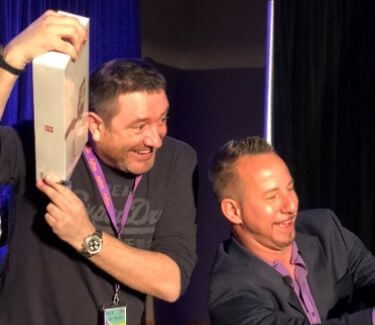 Inside John's Ambassador Program You'll Get All The Following:
In a nutshell, you'll be able to instantly 'license' John's products and keep 100% of every sale you make. However, you'll be receiving a whole lot more. He literally provides ALL the tools and training to successfully promote his products.
You'll get your very own custom built Evergreen Webinar completely set up and ready to generate subscribers and take orders.
You'll get your very own custom built affiliate website completely set up with an affiliate recruiting program integrated into the website.
A done for you email sequence for 365 days geared towards generating sales on a daily basis.
You'll get 100% commissions on John's products and 50% commissions on carefully selected products that will be promoted in your 365-day email sequence.
You get to keep a 50/50 profit share of the sales or any upgrade offers your affiliates invest in
You'll get advanced traffic training that covers both free and paid traffic. This module also includes done for you traffic.
You'll get John's full support and ongoing training.
Except for a tiny monthly fee for your auto-responder service there will be no additional costs as all the websites and products will be hosted on John's servers.
As you can see, John will give you access to all of the strategies he's personally using to make money on ClickBank. These strategies are very easy to copy, and you will get excellent results as soon as you start implementing them.
IMPORTANT NOTICE: Nowadays you can get a FREE forever account up to 500 subscribers with either Getresponse or Aweber. So, if you're just starting out and you're on a tight budget, you can cut out those monthly recurring auto-responder fees as well.
Pros And Cons Of John Thornhill's Ambassador Program
PROS
No need for product creation as you'll get the rights to sell John's products and keep 100% of the profits
John will hold your hand throughout the entire program and lead you to success
John will provide all the necessary tools to effectively promote his products
You are allowed to recruit affiliates via the done for you affiliate websites to help you promote and sell John's products
You'll be able to generate additional affiliate commissions with John's 365-days proven and tested email swipes
You're only job is to drive traffic to your web pages and John will do all the selling on your behalf.
CONS
This program comes with a price tag of $497 so this is ONLY for people who are serious about starting a REAL online business.
John has a pretty strong accent which might take some time to get used to, especially for non-native English speakers.
One of the major benefits of the program is that when you decide to join, you'll be offered 3 payment options. By doing so, John made the program truly affordable for anyone who wants to join.
Should You Get This Program?
A loud and clear – YES! This is without a doubt one of the best online marketing programs on the planet and it's the benchmark when it comes to being an affiliate and vendor at the same time. The fact that it covers both these aspects makes this a truly well-rounded marketing program.
With thousands of students and many success stories, the product delivers what it says beyond a shadow of a doubt. If you wish to make a decent income online, this program is for you.
If you wish to make income that will allow you to quit your day job and have location independence and freedom, John Thornhills Ambassador Progam will help you get there.
If you want to be a millionaire, guess what? Yup! Once again, this program is for you too. John has made millionaires out of several students. If you do the work and follow the steps closely, success can be yours too.
How Do I Join John Thornhill's Ambassador Program ?
Everyone has to go through John's FREE Webinar Training. During this webinar training you'll get all the information and proof that John's program actually works and is not just another "pie in the sky" program.
Although the webinar is a sales pitch for his program, John will also reveal his entire business blueprint on this webinar and you can basically copy and paste the strategy and make money from it, whether you join John Thornhill's Ambassador Program or not!
After the webinar is complete, he'll give you a link to click on. When you click on that link you'll be redirected to the check-out page. There you will see 3 payment options so you"ll need to click on the payment option that suits your budget and you're in.
The webinar runs every 15 minutes, which means, you'll not have to wait to see what John's Ambassador Program is all about.
If you click on the button below, you'll be brought to John's sign-up page, where you enter your name and email, then just click on the link and you'll be forwarded to the webinar.
So, If You're Eager To Discover…
A Proven Formula For Automated Sales & Success That You Can Apply In Under 30 Minutes…Then Click The Button Below And Reserve Your Seat!

That's all I've got for you today, but if you have any additional questions about John Thornhill's Ambassador Program, then hit me up in the comments section below and I'll get back to you asap.