As promised in an earlier post here's part 2 in my reviews on how to build an email list fast with DFY solutions. In this particular post I'm going to introduce you to a product by Bryan Winters, whom is known for the several viral list builders that he created in the last decade. So yeah, this definitely won't be the last time that Bryan's name will pop up during this DFY list building series. This system is the newest version of Siphon, a product that Bryan released on the Clickbank platform a couple of years ago. So without further ado let's dive in to my How To Build An Email list Fast – Part 2 Siphon Reloaded Review.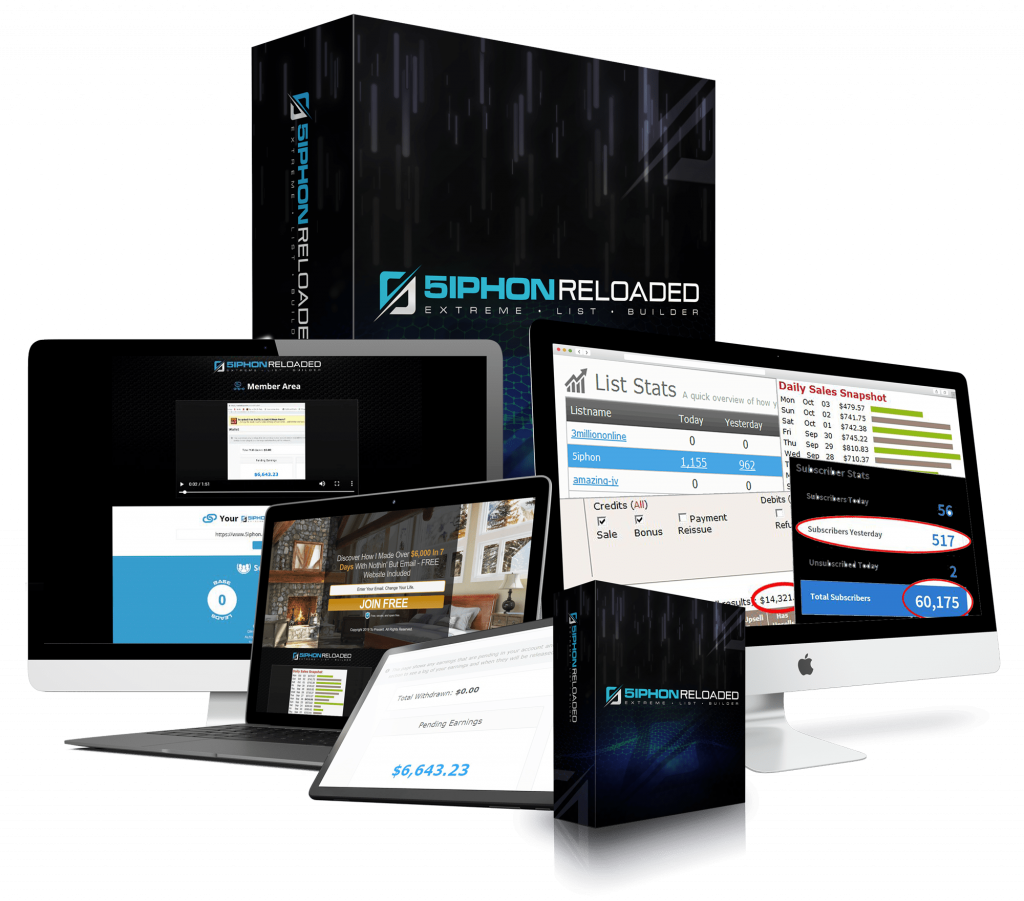 Here's How To Build An Email list Fast – Part 2 Siphon Reloaded Review
Watch my Siphon Reloaded Review video below

How does the Siphon Reloaded system works
Well it works pretty similar as the Free Lead System, you sign up as a free member and you will receive an opt in page and a free website. In order to build your list you're going to give away the same free website to your new subscribers.
The major difference between the Free Lead System and Siphon Reloaded is that you are not able to make money from the system automatically, and it only stores the leads that you have collected, so you will need to load them up in either an autoresponder or your email account.
If you remain a free member your first 5 subscribers will also be passed up to the person that you're subscribed to. The system then keeps sending 10% of the email subscribers of the people that signed up to you on complete auto pilot. So obviously, the more free websites that you give away, the more people you'll have out there building your list without doing any extra work .
But why would people send you 10% of their subscribers?
Well the answer is pretty simple, because they get the same benefit from their subscribers, and this is exactly why this is a viral list building system. The biggest advantage of this system is that it will grow your list pretty quickly and that you have the choice to promote any offer you want to your new subscribers.
If you decide to upgrade from a free membership to a pro membership, you'll also be able to receive 50% commissions when people who have signed up to you make the decision to become a pro member.
Inside of your free website you will also find several free and paid traffic options to promote your website, along with email swipes and banner ads that you can use.
Advantages of Siphon Reloaded
Complete free list building system, no need to upgrade if you don't want
Viral system, the more free websites you give away the more subscribers you'll gain on autopilot
Free to chose which product you want to promote
Bryan always keeps his systems updated
Disadvantages of Siphon Reloaded
No build in autoresponder, so you will need to take care of that by yourself
Not hosted on your own server
Conclusion
Simple system to start building your list, especially for people new to online marketing and marketers who want to take advantage of the viral element of this list building system.
Watch The Video Below Where Bryan Winters Explains The Whole System

Click The Button Below To Get FREE Access To Siphon Reloaded


If you are interested in more FREE to join DFY list building solutions, than make sure to watch out for the third part in this list building series.