Email Fire 3 Review – 4 weeks premium engagement series that will build rapport and authority for you and gets people to buy!
Hello readers, visitors and fellow online entrepreneurs, welcome to my Email Fire 3 Review. Email Fire 3 is a new product by Kam Jennings and he will unleash the fire on the 7th of August 2020 at 1.00 AM/EST.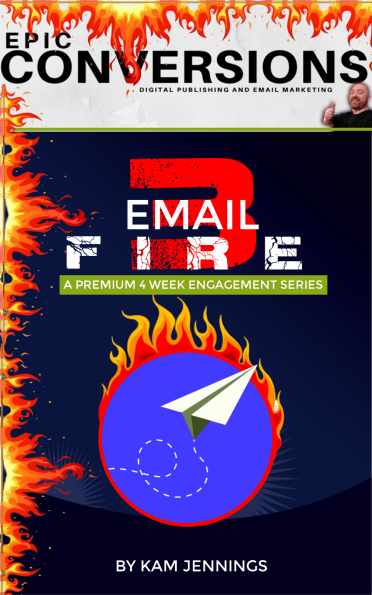 This is the third part of his Email Fire series and this one is designed to to take cold leads and build rapport, produce engagement and increase click through rates with your list.
It's also aimed at bringing your dead or non responsive lists back to live. Email Fire 3 is jam packed with engagement and click through loops so you can easily test how interested your list is in your stories and products.
Who's the creator of Email Fire 3
Well, you can say that Kam Jennings is a Jack of all trades. He's the owner of the epic conversions blog, he has a YouTube channel, runs a weekly podcast, creates products on a regular basis and he is successful in promoting other peoples products.
But most and foremost, Kam is a marvelous copywriter and that's the reason why he excels in email marketing.
He's always able to put his name on the leader boards whenever he promotes a product, and he outperforms many big marketers who have email lists 10 to 100 times the size of Kams email list.
As a product creator he stands for value and quality, and this reflects in his refund rates which are basically non existent.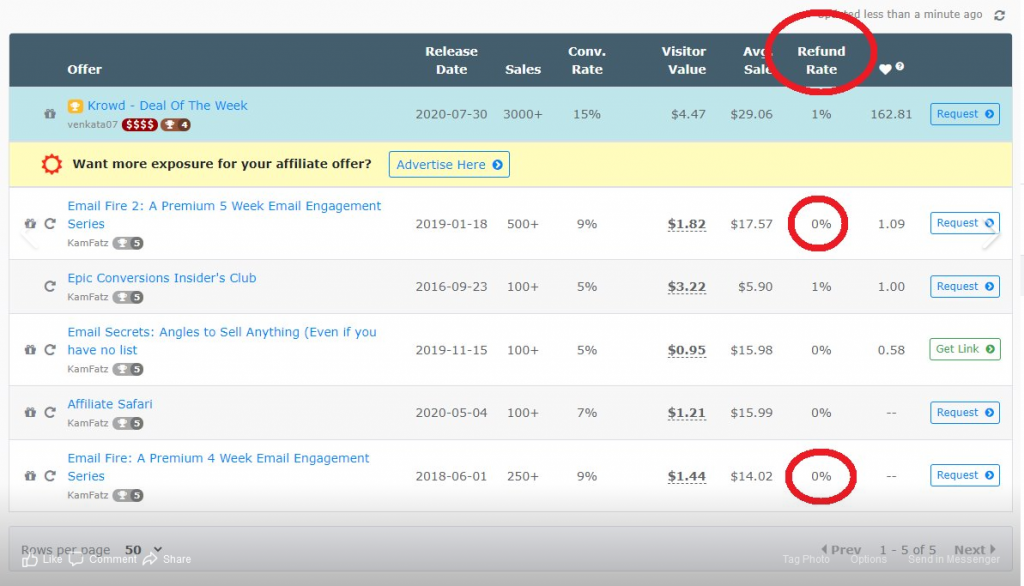 Apart from all of the above Kam is a no nonsense guy who really says what he thinks and therefore most likely burned a lot of bridges with other marketers and vendors.
A good example of this, is one of his recent podcasts called "Legends Of The Easy Money Button", where he called out several vendors about the low quality of their products and the copy on their sales pages.
Seriously, if you didn't watched it yet, look for it on either YouTube or FaceBook because it will be an eye opener for many people, especially if you're still new in the MMO niche!
Watch My Email Fire 3 Review Video Below

What you will get inside the members area of Email Fire 3
You will receive a 4 week Premium Indoctrination Email Series For the Internet Marketing Niche.
This email series was written by Kam himself and it will build rapport and authority for you. Email Fire 3 is designed to get your audience ready to buy things that you want to sell them.
These emails contain:
Over 11,000 words and 4 weeks worth of emails
Full of interesting and thought provoking stories to build rapport
Packed with actionable content to build authority
Laced with engagement loops so that you can test how interested your list is in what you have to say
Lined with Click Through loops so that you can measure how ready your list is to buy from you
A system like this will allow you to measure engagement, rapport with list, and adjust based on performance
You also get access to 2 bonuses:
The underground traffic report vol.1
The underground traffic report vol.2
These 2 reports are filled with under the radar traffic sources that you can use to drive traffic to your affiliate links, squeeze pages, your own products or to whatever you have to offer.
Pricing And Funnel Of Email Fire 3
The front end of Email Fire 3 will cost you $12.97
Upgrade 1: Email Fire 3: Legacy Edition at $27
This package includes Email Fire 1, Email Fire 2, Affiliate Marketing training geared specifically for Email Fire series, and replays on a Systems and Email Conversions 4 Day workshop.
Down sell 1: Epic Conversions Insider's Club at $10.80/Month
This is Kam's monthly low ticket membership program that gives members a brand new IM product every single month, group coaching and keeps them up to date on the newest tips, tricks and info in the IM space.
Upgrade 2: 3 video case studies at $47
These are case studies on 3 successful affiliate marketing campaigns that earned over 2k in sales. This package also includes all the original emails WITH PLR license on emails and affiliate campaigns.
Down sell 2: 3 video case studies without the emails and PLR rights at $27
DS2 takes away emails and campaigns with PLR license included in OTO2 but still offers the 3 video case studies.
Upgrade 3: Franchise Funnel at $97
This offer gives you a downloadable copy of the entire Email Fire 3 sales funnel, along with PLR license to Email Fire 3 AND 100% affiliate commissions through the entire funnel!
Down sell 3: Max Deal Affiliate Opportunity at $47
This will offer 100% affiliate commissions through out the entire Email Fire 3 sales funnel for those who turned down upgrade 3.
Pros And Cons Of Email Fire 3
Pros
Professionally written emails by someone who actually knows what he's doing
These emails will increase your email opens
These emails will engage cold leads or non responsive lists
Cons
You will need to study Kam's writing style and adapt to it if you want to keep the engagement going
Conclusion
These series will be extremely helpful for people new to email marketing who don't know how to engage with their subscribers, and for more experienced marketers who suffer from dead and unresponsive lists.
Get Instant Access To Email Fire 3 And My Bonuses


My Bonuses For This Email Fire 3 Review
BONUS 1: Email Marketing Super Bundle
This bundle contains 6 important parts of email marketing and is jam packed with golden nuggets that will take your email marketing to a whole new level. This bundle includes 20 ways to give away your lead magnet, how to build and grow your list, email copy writing best practices, 101 email headline templates, nurturing your email list for profits and tracking and optimizing your emails for maximum profit.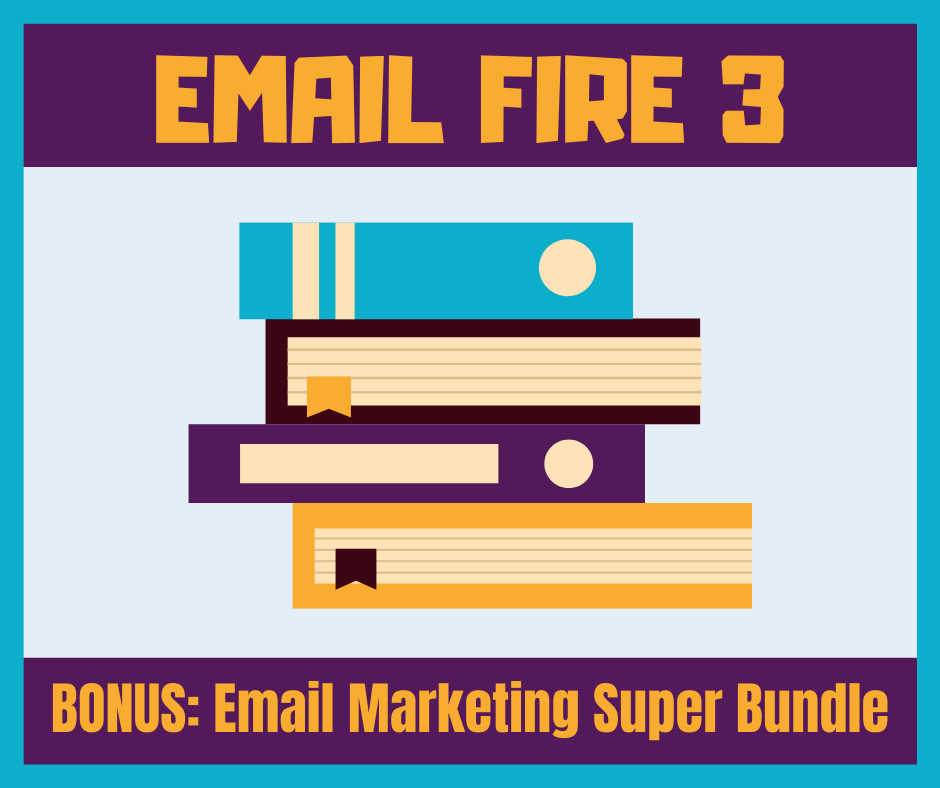 BONUS 2: How To Be Profitable With Email Marketing Even With A Tiny List
This video training course will show you how to be profitable with a tiny list. You'll discover how to engage with your list and how to do it. If you follow the guidelines that are laid out in this training, you are going to see open rates of about 40% which is a number most marketers only can dream of.
BONUS 3: Online Marketers Guide To Copy Writing
Copy writing is one of the most important skills for an online marketer. It doesn't matter whether your involved in email marketing, social media marketing, content marketing or you're a product creator who needs to write his sales copy, you will need the proper knowledge of writing copy if you want to be successful. This guide includes a report and a cheat sheet to turn you into a copy writing master!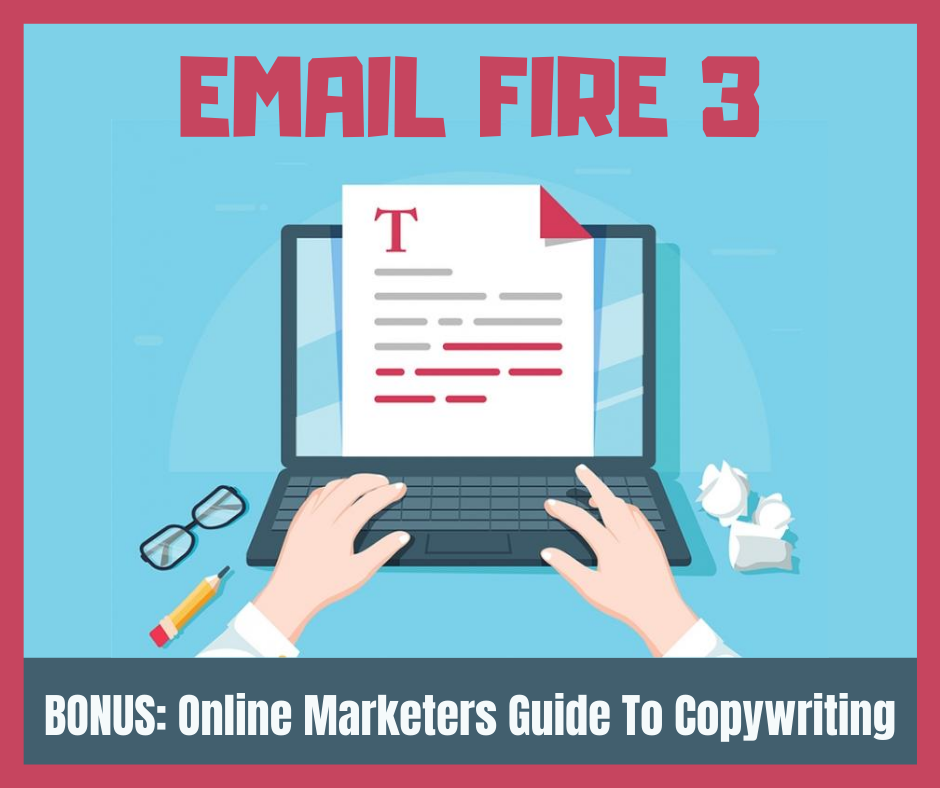 BONUS 4: All Vendor Bonuses
The bonuses provided by Kam Jennings will be delivered inside your Email Fire 3 members area.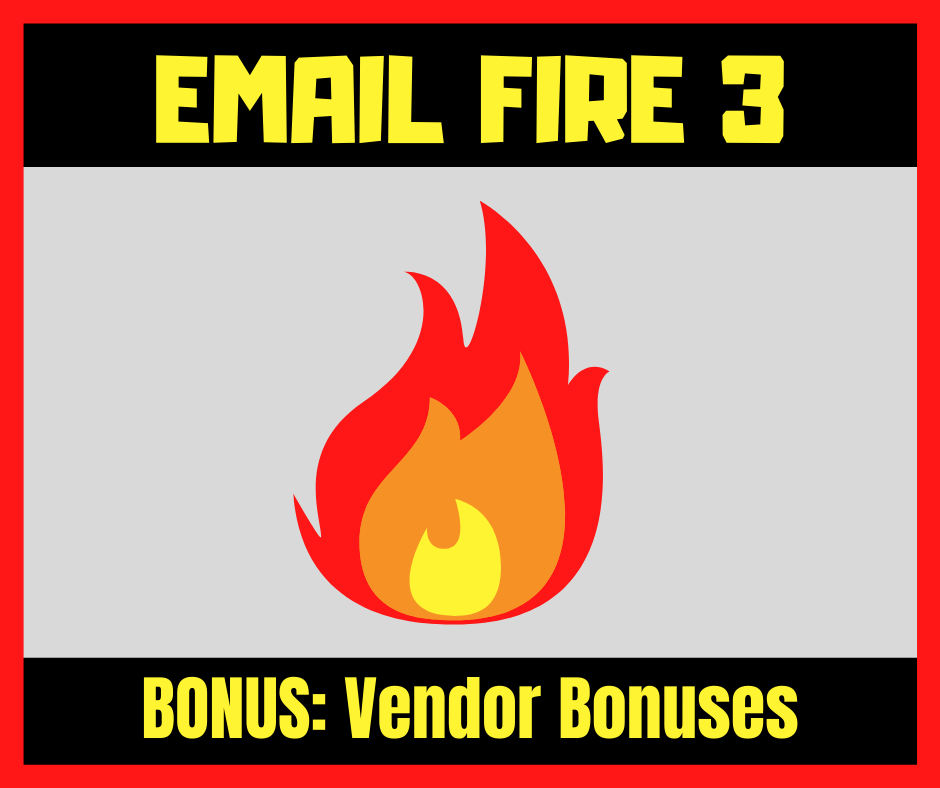 Get Instant Access To Email Fire 3 And My Bonuses


If you choose to buy Email Fire 3 via my link, you're bonuses will be automatically delivered inside your Warrior+ account. See the picture below on how to access your bonuses.