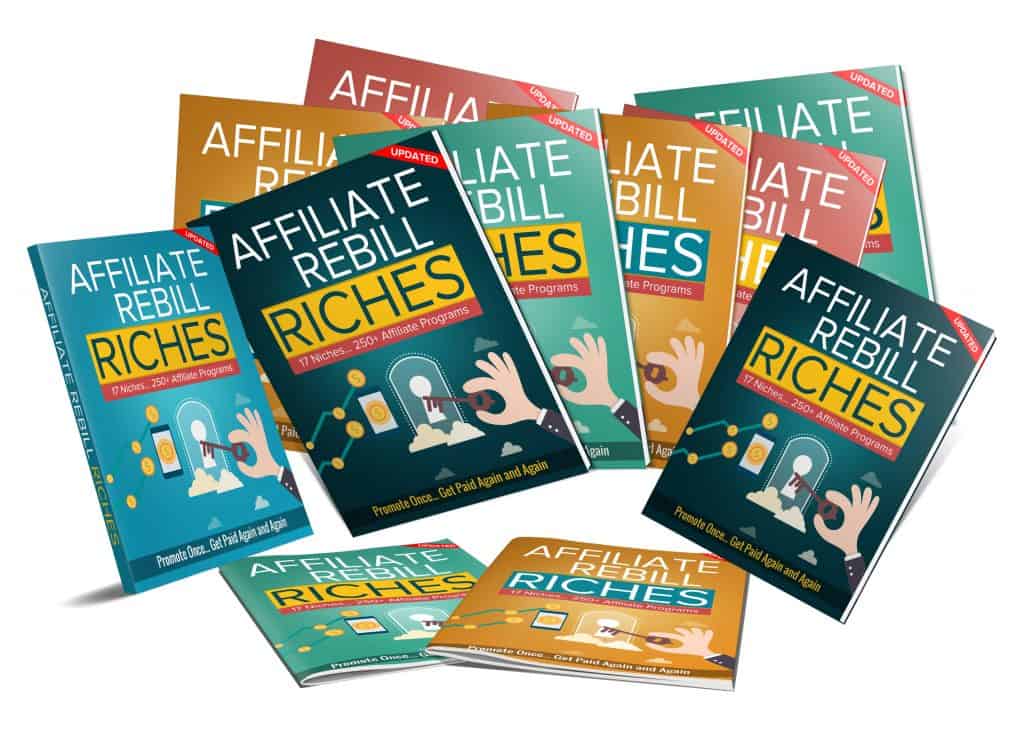 Affiliate Rebill Riches 5.0 Review – Stop going for measly payments and grow your monthly income with recurring commissions!
Alright then, let's dive straight in to this Affiliate Rebill Riches 5.0 Review. This product, as you probably have guessed already, is not something that is brand new but it's the fifth update of the original Affiliate Rebill Riches rolodex by Val Wilson.
If you're looking for a typical affiliate marketing course or software, I have to disappoint you because Affiliate Rebill Riches 5.0 ain't nothing like that. No, this is something completely different.
The main goal of this product is to save affiliate marketers from hours upon hours of research work. It's like having your own personal assistant right there on your computer.
Now you might be wondering, what the heck is he talking about? Well, stick with me and it will al become clear in this Affiliate Rebill Riches 5.0 Review.
So what exactly is Affiliate Rebill Riches 5.0
Simply put, it's an extensive collection of ClickBank Products that all have recurring monthly commissions.
It's split up into 17 different categories, and each category contains a selection of various products with a monthly recurring affiliate commission.
It gives you the highest paying affiliate offers so you don't have to go through all the available offers to find the best ones. That tedious job has already been done on your behalf.
All the products are listed on Clickbank, so you won't have a problem to get your affiliate link approved.
== Watch My Review Of Affiliate Rebill Riches In Video Format ==

>>> Click Here To Secure Your Copy + All My Bonuses <<<
Inside the Affiliate Rebill Riches 5.0 rolodex you'll be able to find more than 300 products with a recurring commission. And more importantly, every product pays out at least a $50 commission, with the average payout across all being $291.
Some of these programs may pay out recurring commissions on the back end instead of the front end, many of them have multiple back end offers as well as monthly membership programs. Even some of these programs offer lifetime commissions!
Products that come with a recurring commission are the only way to passive income. So, it's needless to say that all the information inside the rolodex is extremely valuable.
You also get easy to follow guidelines on how to use the info inside the rolodex. Plus, there's an extra standalone video course on affiliate marketing, a guide about content creation and an additional guide on driving traffic to your offers.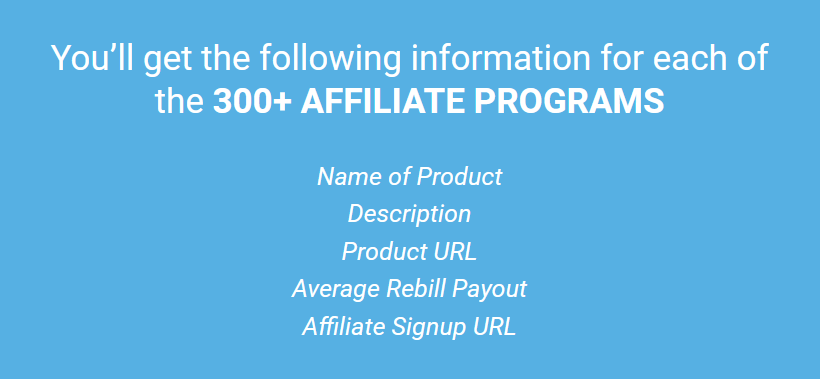 If you're an avid user of the Clickbank platform, then you already know by now that this rolodex solves one of the major flaws of Clickbank, the search function. Clickbank is a great platform to work with as an affiliate but the search function is a complete mess.
Another advantage is that if you buy this version, you will receive future updates without the need to pay extra. So you buy it once and you'll be a lifetime member.
This is something most vendors never do, they would simply charge you over and over again!
Who is the creator of Affiliate Rebill Riches 5.0
Val Wilson is one of the most sincere guys in this industry. He's been promoting and creating products for as long as I can remember and he regularly teams up with like minded marketers such as Andy Waring and Barry Rodgers.
One of his products, Everything Rebrandable, is a product where I happily pay the monthly recurring $17 fee for, because it saves me hours of work creating lead magnets and it gives me the ability to dip my toe into any niche, even if I know zilch about that particular niche.
Price And Funnel Of Affiliate Rebill Riches 5.0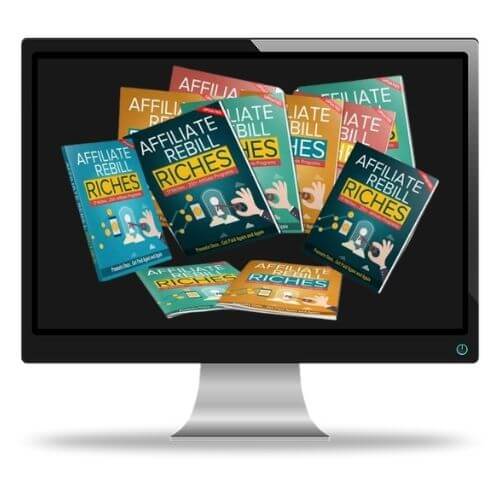 Affiliate Rebill Riches 5.0 – $10.80
IMPORTANT NOTICE: Price Will Rise To $27 On 21/02/2022
>>> Click Here To Secure Your Copy + All My Bonuses <<<
Upgrade 1: Affiliate Startup List Building Pack $27
This offer is one of Val's 'Done For You' funnels in the Affiliate Marketing Niche.
Free Giveaway Report To Build Your List
A Fully Mobile Responsive, High Converting 2 Step Squeeze Page
A Fully Monetized Download Page
A Full 14 Day Relationship Building Autoresponder Series
Upgrade 2: A Complete Affiliate Marketing Niche Site & Content Pack at $47
A completely done for you website with your squeeze page incorporated into site.
A Professional Affiliate Marketing Niche Site
A Massive Affiliate Marketing Content Pack
A Quick Start Set Up Guide
Fully Monetized With YOUR Links
Three Valuable Bonuses
Upgrade 3: A Complete Installation Service at $197 or $297
A complete installation service for the niche site AND the email follow ups for anyone who gets the upgrade pack. The first option is for those who already have their own domain and hosting and it is priced at $197. There is also a second option for $297 where Val will provide the domain and hosting.
Grab Affiliate Rebill Riches 5.0 Today And Get Instant Access To All The Bonuses Listed Below
In this bonus I'll guide you through an easy but very effective strategy to make commissions from Clickbank offers. You don't need a website or an email list to pull this off, so literally ANYONE can do this. And best of all, it's completely free to implement as well!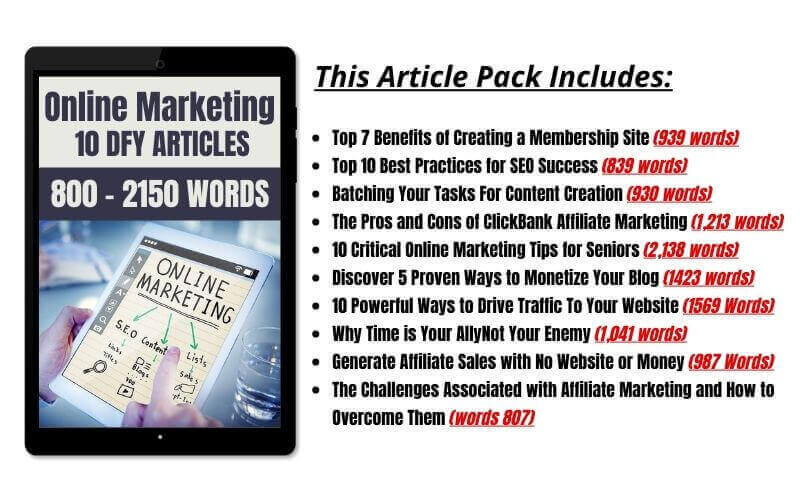 Get access to 10 expertly written articles all related to online marketing. All the articles are in between 800 and 2150 words long. You can use them to promote (recurring) Clickbank offers in the online marketing niche.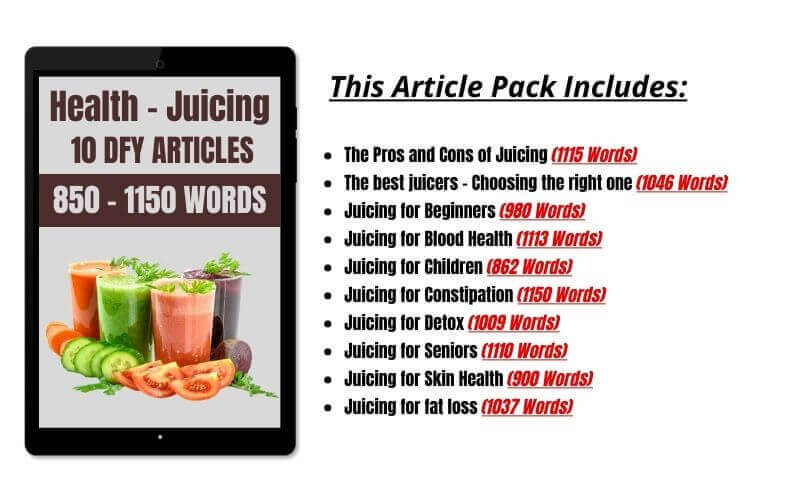 Get access to 10 expertly written articles in the highly profitable health niche. All the articles cover an in-demand topic – juicing. The articles are in between 850 and 1150 words long, and you can use them to promote (recurring) Clickbank offers in the juicing niche.
The extra bonuses from the vendor will be delivered in your members area of Affiliate Rebill Riches 5.0
>>> Click Here To Secure Your Copy + All My Bonuses <<<

If you choose to purchase Affiliate Rebill Riches 5.0 via my link, you're bonuses will be automatically delivered inside your Warrior+ account. See the picture below on how to access your bonuses.