How To Make Money With PLR – Step by step tutorial on how to turn your PLR content into profits
In this post I'm going to reveal a simple method that I use to come out with profit pulling products all of the time. As a matter of fact, you could structure your whole online business around this method. I come out with new reports all the time using the exact same techniques that I'm about to share with you today. The best thing about this method is that you can scale it up quickly and easily. So let's dive in, and let me show you how to make money with PLR.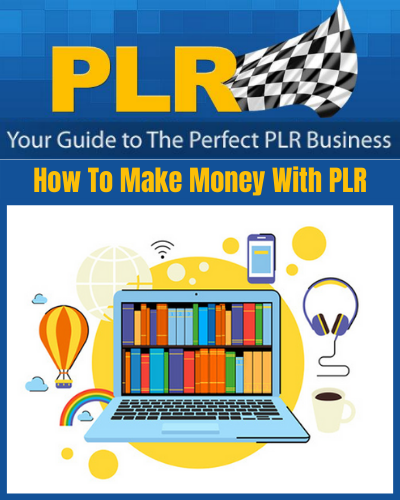 Making profits from PLR products really couldn't be simpler, just follow my guidelines and put it into action

STEP 1: Choosing Your Product
Decide on your niche
The niche should be relevant to the products or content that you've produced previously. Unless you want to enter a completely new niche, for example, you normally operate in the make money online niche and now want to enter the weight loss niche.
Is there an audience of hungry buyers for your product? Start by researching your niche on market places such as Clickbank, Amazon and JVzoo. Your goal is to find out how well products in your niche are selling.
How stiff is the competition in your chosen niche? Competition is good, this usually means that you entered a profitable niche. But keep in mind that you don't want to enter a niche which is overly saturated.
Quality of your product
Only go for products that come with extra materials, such as a cheat sheet, a mind map or a different set of graphics.
Make sure that all the marketing materials are included in your package. Your package should have a lead magnet, an opt-in page, a thank you page, a sales page and a download page.
Before you start the rebranding process always go through your product. Make sure that the content is well written or that the videos are of high quality. Always look for unique topics in your content and enlarge those topics as this will be a selling point for potential customers.
Only buy PLR products, NOT MRR or RR
Don't go for MRR (Master Resell Rights) or RR (Resell Rights) as they do not allow you to rebrand your product and make it unique. They only allow you to sell the product as it is.
Only buy PLR products as this gives you the right to do a complete makeover of the product.
Here's 2 places that you might want to consider if you're looking for PLR products


STEP 2: Edit The Product And Make It Truly Yours
The cover
Always change the cover of your product, you can edit the original file that came with it in Photoshop or use a free tool called

Gimp

.
Even better is to create a completely new cover and/or create new graphics for your product. Your goal is to change the complete outlook of your sales page.
An easy way to create a new cover and graphics is by using the free online tools Canva.com and SmartMockups.com.
Change your product name
Give your product a completely new name but make sure it's still relevant with your products content.
Change the wording of your subtitle's or write a completely new subtitle.
Don't forget to change the author name to your name
The content
You could rewrite the content in your own words if you wish to. If the original content is well written, I personally leave it as it is. What you might want to do is ad some extra paragraphs to create more value and put in your personal touch. You'll be able to do this with Microsoft Word or if you don't want to pay, with Open Office.
Don't forget to ad in extra affiliate links, this will help you to make more money. But be moderate here, you don't want your report to turn into an "affiliate link galore"
If you're an absolute disaster in graphic's design and writing, you could hire someone to do it for you through a site like Fiverr or Upwork.


STEP 3: Getting Your Pages Up And Running
You will need to set up a website/page from where you can start selling your product. You might already have a website, so some of the next steps won't be relevant to you. For everyone else, the following will be absolutely required…
Web Hosting
Web hosting means somewhere for you to store the files that make up your website online. There are literally hundred of web hosting providers to be found if you perform a simple Google search. A good place to compare different providers is Hostadvice.com. I'm using Hostinger for the last couple of years and never had any issues with them.
You can sign up for a Hostinger account over here.
Domain Name
As well as the space to store your files, you'll also need a domain name, which is the address that people will type into the URL bar when they want to find you or your products. You can usually get this through your hosting provider. If not, you will need to buy a domain name at domain registrars such as Namecheap.
HTML Editor
This will allow you to make any changes that you desire on the original pages. You can download either Kompozer or NVU. Both are similar WYSIWYG HTML editors and they are completely free to use.
You can download Kompozer completely for free over

here

You can download NVU completely for free over

here
FTP software
To help with transferring files, you will need an FTP software like FileZilla. This will allow you to upload files to your hosting account without having to do so through your browser.
You can download FileZilla completely for free over here.
Payment Processor
You also need a payment processor, which will allow you to create your own 'buy now' button. This is very important, if you don't replace the buy now button, then you may just be making money for the person that sold you the product. The most commonly used payment processors are Paypal and Stripe
Auto-responder
This is a piece of software that you use to build mailing lists. This allows you to collect the emails of people who think they might be interested in buying your products and then to send them messages to encourage them to come back and buy. It lets you build trust and establish yourself as an authority. I highly recommend Getresponse as it comes with all the features you'll ever need as an internet marketer.
You can sign up for a Getresponse account over here.
Watch The Video Below To Get Your Pages Up And Running

STEP 4: Start Promoting Your New Product
Now that you have everything in place it's time to start promoting your product and make some sales.
You want to start promoting on all the different social media platforms. If you've not yet created accounts on Facebook, Instagram, Twitter and Pinterest I recommend you that as soon as possible. Build yourself an audience in your niche and promote your products without being to salesy.
Promote on your own website or blog if you already have an audience.
If you have an email list with loyal subscribers then you surely want to let them know that you created a new product.
You might want to consider sending paid traffic to your product. Use Bing Ads, Google Ads, Facebook Ads or Solo Ads to get your sales going.
Consider setting up and affiliate program, nothing to stop you offering commissions for your product.
STEP 5: Re-use and monetize your content in multiple ways
Create slides and read out the content in order to create a video. This can easily be done in Power Point or Google Slides.
Break down your content into smaller chapters and use them as blog posts.
Publish the book in a physical format through Amazon Self-Publishing.
Break chapters down into individual 'lessons' that can be part of an online course.
Break down your content and use it as engaging social media posts.
Use it as a lead magnet and build an email list.
…and so much more, the possibilities are endless

Here Is A Detailed Video Tutorial On How To Make Money With PLR Products

These are the basics of creating and selling digital products by using private label rights. Once you have it down to where you can make money with it, you can do it over and over again which will keep making you more money. Imagine if you had 25 different hot products selling in different markets all making you money 24 hours a day.
So let's get cracking and build yourself an arsenal of digital goldmines.